My Generation of Sunday 05 & Tuesday 07 August: Shel Talmy's Mod Planet, Eirin Spilde, Jim Cregan [Ed's Show 2018-31]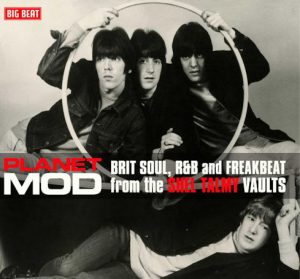 NEW SHOW: Shel Talmy's Mod Planet, Eirin Spilde, Jim Cregan *** REPEATED: Fat Water, Harvey Mandel, The Nick Steed Five, TWO with Pete Sargeant *** Sunday 05 August, 12:00 > 24:00 hrs + repeated Tue. 07 AUgust, 1200 > 20:00 hrs.  *** Time Zone: CET, Brussels ***  [2018-31] **** RADIO 68: ALL THE SOUNDS AND ALL THE VOICES THAT  SHAPED THE SIXTIES ***
1 MY GENERATION (NEW)
SPECIAL: SHEL TALMY: PLANET MOD
LOVE, PEACE & UNDERSTANDING: AGUATURBIA: Erotica (< Drugstore, Spain, 1969) *** FORGOTTEN & OVERLOOKED:  JACKIE DE SHANNON: Come And Stay With Me + ENRICO Macias: Enfant de tous pays + LONG JOHN BALDRY: Cry Me A River (Looking at Long John, 1966) *** SPECIAL  Planet Mod: Brit Soul, R&B and Freakbeat from the SHEL TALMY Vaults: feat. The Untamed, The New Breed, The Thoughts, Kenny Miller, The Tribe, The Pros & Cons, The Corduroys, The Preachers, Goldie & Th Gingerbreads, Tony Christie & Th Trackers, A Wild Uncertainty, The Total. ***WORD : Leuven Vlaams +  Patrik Kacerik on the invasion of Czecho-Slovakia in 1968
2 BLUESIDE (NEW)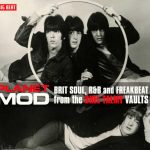 SPECIAL: SHEL TALMY: PLANET MOD
LOVE, PEACE & UNDERSTANDING: THE DELLS: (My Love Keeps On Growing) Higher and Higher *** THE ORIGINATORS  & INSPIRATORS:  JUNIOR WELLS: Hoodoo Man + JUNIOR PARKER: Drivin' Wheel + MISSISSIPPI FRED McDOWELL: You Gotta Move *** SPECIAL PLANET MOD: The SHEL TALMY Vaults, feat. John Lee's Groundhogs, The Soul Brothers, John Lee Hooker , Screaming Jay Hawkinsn Ray Gates, The Untamed *** KEEPERS OF THE BLUES FLAME:  EIRIN SPILDE and CREGAN & Co. fet. JIM CREGAN: Eirin Spilde's new single Heart Of Stone / If I Could Turn Away (by Norman Beaker, feat. Norman Beaker on gtr and John Price on bas) + CREGAN & Co. feat. JIM CREGAN: Don't Listen ; Jim Cregan is former guitarist of Cockney Rebel , Family and Rod Stewart;  musical director and co-writer of Rod  Stewart (thanks to Dave Hill and Tenacity Music ) *** WORD  2 Gordon Lightfoot: Black Day in July
3 MY GENERATION (REPEATED)

SPECIAL: FAT WATER  HARVEY MANDEL
LOVE, PEACE & UNDERSTANDING: THE CHAMBERS BROTHERS: Where Have All The Flowers Gone (LP A New Time, A New Day ; 1968) + FORGOTTEN & OVERLOOKED: THE YOUNGBLOODS: You Can't Catch Me (live at San Francisco) + THE NEW INSPIRATION: Rainbow + BILLY STEWART: Secret Love ***  SPECIAL: FAT WATER: 1 I Can Be Happy 4 Gimme Your Sweet, 7 It's Not the Same, 8 Wayback 12  Gotta Get Together [Fat Water, MGM, 1969] + related groups BLOOMFIELD, STILLS & KOOPER: Harvey's Tune (< Super Session) + BARRY GOLDBERG & Friends feat. Mike Bloomfield & Harvey Mandel; Long Hard Journey (< Barry Goldberg & Friends, 1969) + HARVEY MANDEL: Check Me Out (< Get Off In Chicago, 1969) *** LONGPLAYTIME:  BACK TO BASICS in 1968 with DYLAN (I Am A Lonesome Hobo <  LP John Wesley Harding) + JONI MITCHELL (Cactus Tree < LP Song To A Seagull) *** WORD: Les mœurs et le féminisme + Charlotte Van den Broeck ***
4 BLUESIDE (REPEATED)

SPECIAL:  THE NICK STEED FIVE
LOVE, PEACE & UNDERSTANDING: ELVIN BISHOP's FUN TRIO: Something Smells Funky 'Round Here (< Something Smells Funky 'Round Here, 2018, thanks to V2 Records Belgium & Alligator Records) ***  THE ORIGINATORS  & INSPIRATORS:  JIMMY REED (Shame Shame, Shame) + BLIND BOY FULLER: Get Yer Ya-Yas Out  *** SPECIAL THE NICK STEED FIVE, feat. Larry Garner and Norman Beaker (< cd  Feeling For The Blues, 2018): Supercar Loan feat. Norman Beaker, Crying For You, in The Room Cold-Hearted Woman + LARRY GARNER & The Norman Beaker Band: Heavy Pieces (< Live at The Tivoli) + THE NORMAN BEAKER BAND: Can't Be Satisfied (< Live in Belgrade) *** KEEPERS OF THE BLUES FLAME: TWO aka The Worthing Originals feat. Pete Sargeant: Going to Mexico, Going to Brownsville, Madison Blues (thanks to Pete Sargeant for making these first-take studio rehearsals made available to Radio 68)    *** AND ALSO: ANDY FERNBACH: Hard-headed Woman (If You Miss Your Connexion) *** WORD : Mahatma Gandi: Non-violence

| | | |
| --- | --- | --- |
|  SCHEDULE ** ROOSTER  ** CET Brussels | Sun. 1200 > 2400      | Tue. 1200 > 2000  |
| My Generation: new show: Mod Planet | 12:00 * 16:00  * 20:00 hrs | 12:00 * 16:00 hrs |
| Blueside: new show: Mod Planet | 13:00  * 17:00  * 21:00 hrs | 13:00  * 17:00 hrs |
| My Generation repeated: Fat Water | 14:00 * 18:00  * 22:00 hrs | 14:00 * 18:00 hrs |
| Blueside repeated:  Nick Steed | 15:00 * 19:00 * 23:00 hrs | 15:00 * 19:00 hrs |
| | Ends 24:00 hrs | Ends 20:00 hrs |
BACKGROUND * ACHTERGRONDINFORMATIE **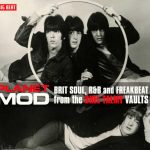 SHEL TALMY: PLANET MOD
"Chances are The Kinks and The Who wouldn't have made it big without producer Shel Talmy. His productions are usually labelled as "mod", but he is one of the true BEAT MUSIC producers ("rock" didn't exist). Unsurprisingly, Talmy also produced soul and R&B artists – if he heard or could insert a beat, Shel Talmy would do it without hesitation. In a few years' time, The Creation, The Who, The Kinks and John Lee Hooker would appear on his roster. But Talmy also produced many more groups who met with less success (The Creation) or no response from the record buyers whatsoever. They are all great tracks, though" (Eddy Bonte)
RADIO 68 PLAYS the entire "Mod Planet" CD, both in My Generation and Blueside.
"Back in the sixties, producers had to be able to think outside the box, as they were hamstrung by what is now regarded as basic equipment. By being able to innovate, some producers were able to make groundbreaking recordings  with what is now regarded as basic equipment. This included George Martin, Phil Spector, Joe Meek, Jimmy Miller and Jack Nitzsche. To that list the name Shel Talmy can be added, as he belongs in such illustrious company. After all, Shel Talmy wasn't just a producer, he was also a songwriter and talent spotter. However, first and foremost Shel Talmy is remembered as a pioneering producer who worked with some of the biggest names in British music. His innovative approach to production transformed many groups, and made stars of The Kinks and The Who, who went on to become two of the biggest names in British musical history. They're just two of the hundreds of bands and artists who were produced by Shel Talmy during the most successful chapter in his musical career".
Quoted from / All rights reserved:
https://dereksmusicblog.com/2018/05/06/planet-mod-brit-soul-rb-and-freakbeat-from-the-shel-talmy-vaults/
FAT WATER
"From Chicago, a mix of psych and heavy rock, with good organ and guitars plus the powerful voice of their singer, who was probably influenced by Janis Joplin. This outfit reportedly evolved out of The One Eyed Jacks from Champaign, Illinois. The vocals are very much of the San Francisco scene of that time and bring the Airplane's Grace Slick immediately to mind. Musically, the vocals are matched with acoustic guitars and swirling organ which gives a country rock feel that flows easily from full tilt boogie to slow blues" Quoted from / All RIghs Reserved: Stephane Rebeschini, Max Waller, Nick Kontogouris, rockasteria.blogspot.com
FAT WATER is related to severel other American artists and groups, notably HARVEY MANDEL
As for Fat Water members, Vicky Hubley, Don Cody, G.E. Stinson, and Peter Milio continued as session musicians backing Harvey Mandel on his version of a "Super Session" and the album "Get-Off in Chicago". Don Cody then wound up as a well-known recording engineer in San Francisco. Vicki and Peter also were part of the "Bruised Orange" album put out by "John Prine" and were featured with "Steve Goodman" for several albums. Peter Milio moved to San Francisco and played with "Country Joe MacDonald" and "David LaFlamme" of "It's A Beautiful Day" for a while. G.E. Stinson formed the highly influential and successful "Shadowfax". (…) Lance Massey actually played with "Aorta" for a short period and made music with local bands "Horsefeathers" and "Duck Soup". He retired from music as a living and became a professional Carpenter. He still plays on occasion near his home town. Quoted from / All Rights Reserved:  http://www.inagadda.com/medRes/feature.html
THE NICK STEED FIVE
CD Feeling For The Blues, Playbyhead Records, 2018,
Nick Steed has built up a reputation as an in-demand piano/organ player performing all over the UK and Europe with a host of great musicians from: Norman Beaker Band, Larry Garner, Chris Farlowe, Sonja Kristina (Curved Air), Pete Brown (Cream Lyricist), Steve Ellis (Love Affair), Van Morrison, PP Arnold, Mollie Marriot, Corky Laing (Mountain), Gary Husband (Level 42/Jack Bruce), Dennis Chambers (Santana/Parliment Funkadelic), Steve Hackett (Genesis), David Sancious (Sting), Ginger Baker, Lulu, Jeff Berlin, Trevor Horn, Malcolm Bruce, Cliff Bennett, Johnny Mars, Kyla Brox.
His Current band  'The Nick Steed Five' features some of the best seasoned blues musicians currently on the circuit with, Steve Gibson(Drums), Kim Nishikawara(Sax), Peter Mason (Guitar), John Sandham(Bass) with a new album 'Feeling for the Blues' containing 12 tracks of original blues music covering all styles of blues from Delta, Country, Americana, New Orleans, Blues Rock, Blues Funk also featuring well in demand players such as Norman Beaker & Larry Garner whom Nick also performs with regularly on European tours.
CONTACT: Web: www.nicksteed.co.uk * Email: nicksteed@me.com * Facebook Band Page: https://www.facebook.com/pianobloke
THE WORTHING ORIGINALS with PETE SARGEANT on vcs, gtr
Pete Sargeant is a self-taught instrumentalist who started singing when he 'couldn't find a reliable singer '. Born into the Blues Boom in London, Pete's strongest influence is US West Coast music and in recent years he has played with members of The Blues Project, The Steve Miller Band and The Fish. A long stint in radio and TV comedy writing (Spitting Image, Not The Nine O'clock News with Rowan Atkinson) has left him with a thirst for news that can be used for comedy. Occasionally Pete does stand-up comedy based on songs. He currently writes and interviews for the UK's  Blues Matters magazine and also runs an all-music review site with his son Glenn – www.justlistentothis.co.uk. Pete's weekly Newsletter is read worldwide and occasionally lapses into rants against advertisements, political deviants and hopeless sports folk (write to Pete if you want to be on his list:  Pete Sargeant [petesargeant@gmail.com] * Pete: "This band is TWO  – The Worthing Originals, being: Nigel Dancer HARP-VCL; Chris Leaney BASS-VCL; Dave Leaney RH.GTR; Al  Anderson DRUMS; Pete Sargeant  GTR-SLIDE-12 STRING-MANDOLIN- BARITONE GTR-VCL".  Radio 68 says: Thanks, Pete!
DISCLAIMER: Illustrations are All Rights Reserved. Radio 68 may not own the rights to the illustrations on www.radio68.be, which are used for information and educational purposes only. Quotations are All Rights Reserved and equally used for information and educational purposes only. Where known, sources are clearly mentioned. No use is made of sources which explicitly prohibit use by third parties, unless prior permission has been granted. Radio 68 is a free and non-commercial project ; there is no income from ads, sponsoring,  subsidies or other external sources.