Week 32 – Art Rock – Lies and Butterflies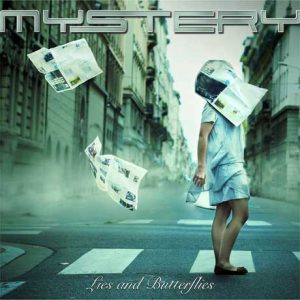 De Canadese progressieve rockband Mystery werd in 1986 opgericht door de multi-instrumentalist Michel St-Père. De afgelopen jaren waren erg succesvol voor de band. Hun album Delusion Rain van 2015 kreeg lovende recensies en behaalde zelfs de eerste plaats op de jaarlijst van Progwereld. Ook het nieuwe album Lies and Butterflies is van de bovenste plank.
Scott Medina van Sonic Perspectives: "New album Lies and Butterflies refuses to fly in the face of Mystery's formula. Instead, it continues the band's trajectory of sumptuous epics and shorter, hook-laden prog singles. Starting where previous live album Second Home left off, we hear the cheers of the crowd and the farewell of the band leaving the stage…perhaps to return to the studio where Mystery continues to be "Looking for Something Else". This opening piece is a clever start to Lies and Butterflies, a slow burner that builds over its 17 minute journey, and bears some relation to the other epic which closes the album, "Chrysalis", the two forming neat bookends between which are sandwiched five shorter pieces. (…)
Throughout Lies and Butterflies we are treated to three particularly noteworthy features via these three Mystery men: lead singer Jean Pageau's gorgeous vocals, Michel St-Père's flawless lead guitar solo sections, and drummer Jean-Sébastien Goyette's fully embodied approach to the percussion which engages the listener on every tune. Michel's immaculate production highlights each of these elements and they are richly rewarding. The bass lines, backing vocals, acoustic guitars, occasional flute and multitude of keyboards support the overall sonic experience which makes it very hard not to be swept up in the full majesty that is Mystery.
For all of these superlatives, the truth is that the same could be said about most any of Mystery's last four studio albums, if not their entire catalog. It may be very hard for a fan to pick out their favorite album or them, because the sound, musicianship and songwriting quality is so consistent. Therefore this album will be unlikely to convert any new fans who previously had no interest, and we also can't give extremely high marks for originality compared to their previous output. But for those who are already onboard the Mystery train – or as an entry point for newcomers – Lies and Butterflies reaches the sky and beyond."
Naast Mystery met Lies and Butterflies hebben we deze week: Saga (Worlds Apart), Rush (Snakes & Arrows), Harmonium (En Tournee), Devin Townsend (Terria) & Tea Party (Splendor Solis).
Thursday/Donderdag 12.00 – 24.00
Friday/Vrijdag 12.00 – 24.00
Saturday/Zaterdag 12.00 – 18.00