Week 34 – Art Rock – Godseed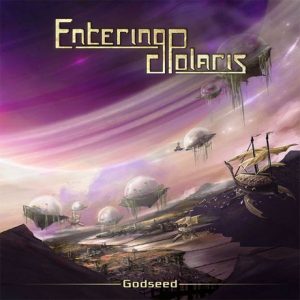 Entering Polaris uit België brengt melodische power en prog metal. Bezieler van dit studioproject is gitarist & songwriter Tom Tas (Quantum Fantay, Neo Prophet), geholpen door drummer Vincent van Kerckhove (Devious Instinct).
Filip van der Linden van Rockportaal.nl: "Voorts komen we verschillende gastzangers tegen, zoals Björn Strid (Soilwork), Henrik Fevre (Anubis Gate), Thomas Vikström (Therion), Lance King (Balance Of Power, ex-Pyramaze), Audrey Dandeville (Irradiance), Georg Neuhauser (Serenity), Sindre Nedland (In Vain, Funeral), Fabio Lione (Angra, Rhapsody) en Arno Menses (Sieges Even, Subsignal).
(…) Inzake muziekstijl gaat Entering Polaris van klassieke heavy metal tot progressieve metal, met haltes bij een akoestische ballad, prog rock en power metal. Ondanks de vele gasten op het album is dit toch heel consistent van sfeer en sound, zonder te gaan vervelen. Tom Tas kan zich helemaal uitleven in de complexe songstructuren en verliest zich onderweg niet (te vaak) in eindeloos gepingel. Hij kan zichzelf best wegcijferen als het moment van de track dat vraagt, zodat bv. de zangers de ruimte krijgen om hun ding te doen. Hij is ook niet te beroerd om eens een andere gitarist naast zich te dulden. Allemaal foutjes waar menig andere 'gitarist-met-een-projectje' zich al eens durft aan bezondigen.
(…) De focus van Godseed ligt ook zwaar op die lange lijst met gastzangers, terwijl een extra toetsenist, violist, bassist, … misschien voor wat meer onderhuidse variatie had kunnen zorgen. De saxofoon was een goede aanzet, maar die lijn werd niet doorgetrokken. Tas heeft ten slotte een heel eigen stijl van componeren, wat het na een aantal nummers een beetje voorspelbaar maakt. Je voelt al snel aan wanneer er een break of een solo zal komen. Sommige luisteraars hebben dat graag, andere worden graag verrast.
Maar dat zijn maar opmerkingen in de marge. Dit is een heel degelijk album waar liefhebbers van klassieke heavy metal heel hard van kunnen genieten. Benieuwd naar wat Tom Tas nog in petto heeft met het project In Motion: dezelfde opzet, maar dan meer in het genre van de progressieve thrash en death."
Naast Entering Polaris met Godseed hebben we deze week: The Sea Within (The Sea Within), Burntfield (Hereafter), Tomorrow's Eve (irror Of Creation III – Project Ikaros), Vespero (By The Waters Of Tomorrow) & Mile Marker Zero (The Fifth Row).
Thursday/Donderdag 12.00 – 24.00
Friday/Vrijdag 12.00 – 24.00
Saturday/Zaterdag 12.00 – 18.00