Art Rock Show – 1979-1982 (Week 22)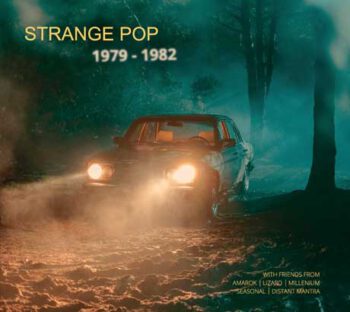 Strange Pop is Michal Dziadosz, componist, zanger en multi-instrumentalist van de groep Iluzion; het is zijn 2e solo album met grote namen Michal Wojtas, Ryszard Kramarski en Maciej Sochon. De band laat een jaren zeventig vintage progressieve rock sound horen (Pink Floyd, Tangerine Dream, Lunatic Soul).
Prog Archives review: "Last Time hovering intro of a Pink Floyd, latent air with slide guitar and organ; a vintage title yes, with old reminiscences and a modern sound to avoid repetition; Amarok's Michal solo is worth its weight; melodic, hovering with this wave noise at the end. 'Friend' rock title well struck, the nervous riff plunges on a catchy air with clapping of hands; raw piece that seems to come out of decades of yesteryear where Daniel's guitar solo gives all the sensitivity to the title, helped by the vintage organ; simple then captivating. 'Lost Years/Working Hour' instrumental with the Schulze intro of the Berliner current; monolithic sound, NASA vocal, monolithic tune with reverberating synth; it reminds me of the last latent Hipnosis track; mid-point break where the cymbals increase the musical clarity after a dark start; Ryszard's synth fills the entire ear, anvil, stirrup and ossicle and refers to the musical wanderings of the late Vangelis. (…)
Strange Pop therefore offers a trip to the turn of the 70s-80s, it is clearly stated; a natural art-rock side without concession on atmospheric prog rock, continuity and evolution for a moment out of time. Strange Pop is an opportunity to realize the work of the dinosaurs of the 70s, especially Pink Floyd, without listening to all of them for weeks but by getting a glimpse of this oh so intimate and contemplative movement by listening to sound analog recorded this year; a sort of escape trip.
https://www.progarchives.com/Review.asp?id=2901317
Naast Strange Pop met 1979-1982, Returned to the Earth (Fall of the Watcher), Amarok (Hero), Bjørn Riis (Lullabies in a Car Crash), Iluzjon (City Zen), Moonrise (Stopover – Life) & Lebowski (Lebowski Plays Lebowski).
Thursday/Donderdag 12.00 – 24.00
Friday/Vrijdag 12.00 – 24.00
Saturday/Zaterdag 12.00 – 24.00