Art Rock Show – A Night at the Library (Week 37)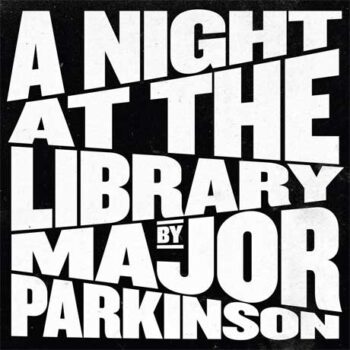 Major Parkinson is een Noorse rockgroep uit de stad Bergen. Major Parkinson werd in 2003 opgericht door Jon Ivar Kollbotn, Eivind Gammersvik, André Lund en Jan Are Rønhovde. In datzelfde jaar wonnen ze het Eggstock festival in Bergen, evenals de finale van de lokale bandcompetitie in Zoom. Pas in 2008 brachten ze hun eerste plaat uit.
Rik van den Heuvel van Prog Wereld: "A Night At The Library is een registratie van een livestream die in mei 2020 werd gehouden in de Bergen Public Library. De intentie van de band was om enkele recente nummers tot hun meest eenvoudige vorm te strippen. Wat overblijft is een Major Parkinson zoals we deze zelden hebben gezien, kwetsbaar zonder al te veel toeters en bellen, maar wel met zeer intense en bij vlagen krankzinnige chamber prog.
Muzikaal zou dit live-album het beste kunnen worden vergeleken met Nick Cave, maar dan onder bezielde regie van de excentrieke filmregisseur Tim Burton. De avond blijkt gevuld te zijn met waargemaakte beloftes, de composities zijn beheerster dan op het studio-album en dit komt de elegantie van de nummers ten goede. Alle instrumenten worden optimaal benut en iedere muzikant krijgt genoeg kans om te laten zien wat hij of zij in huis heeft.
De zang van Jon Ivar Kollbotn houdt het midden tussen de eerder genoemde Nick Cave en Leonard Cohen, donker en rauw en hoewel we te maken hebben met slechts een audioregistratie spat de theatrale energie van de plaat af.  (…)
A Night At The Library is een prachtig wapenfeit van Major Parkinson. Een duistere, intense en intieme achtbaan, maar je moet er tegen kunnen. Liefhebbers van de meer avontuurlijke chamber prog of meer theatrale escapades doen er goed aan zich een avond te begeven in het bijzijn van dit bijzondere gezelschap."
Naast Major Parkinson met A Night at the Library, Motorpsycho (The All Is One), Bent Knee (Say So), Sleepytime Gorilla Museum (Of Natural History), Blackfield (Open Mind) & Kayo Dot (Plastic House on Base of Sky).
Thursday/Donderdag 12.00 – 24.00
Friday/Vrijdag 12.00 – 24.00
Saturday/Zaterdag 12.00 – 24.00