Art Rock Show – Alone Together (Week 43)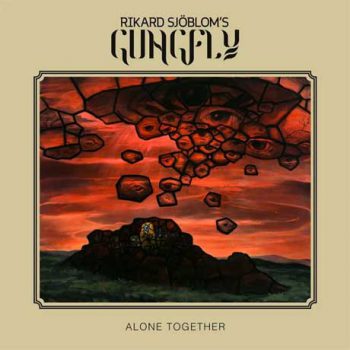 Rikard Sjöblom is inmiddels een vrij bekende naam in de prog wereldje geworden. We kennen hem van de Zweedse band Beardfish, maar ook trad hij toe tot topgroep Big Big Train. Daniel Levy van Prog Report: "The album starts with an epic 13min song "Traveler". This track wastes no time in introducing Rikard's trademark compositional elements – the quirky sounds and reoccurring motifs that will sometimes reappear over the album. Unlike his previous album Friendship, "Traveler" favors a more raw, rock sound with lesser focus on layers of instrumentations. Although there are still plenty of brilliant instrumental moments, the emphasis seems to be on delivering more straightforward hard rock beats. This first song is a good indication of the vibe the album is going with and is definitely on par with the quality of his Gungfly's usual work – the guitar solo in the middle is one of the highlights of Alone Together. (…)
To finish the album, "On the Shoulder of Giants" is the track to listen to if you have to only choose one. The rock n' roll elements are all there while bringing some amazing riffs and motifs. The vocals remain the leading instrument throughout the track, including the middle section when they are accompanied by the piano. This part of the song is definitely my favorite of the album and shows incredible range by Rikard as well as his capability to explore a lot of territory in only one song. The finale is also perfect – bringing the main theme back into leading guitars. The trio is super tight and finishes off the record in a high note.
Alone Together is another successful addition to Rikard's excellent catalogue. Gungfly is a project which leaves much room to explore and he takes good advantage of that. The different influences are clear between each record and he recruited other very talented musicians to join him on. In a year with an already impressive list of new progressive rock releases, Alone Together should not be slept on, as it's sure to please both existing and new fans."
Naast Rikard Sjöblom's Gungfly met Alone Together hebben we deze week: Jordsjo (Nattfiolen), Kaprekar's Constant (Depth of Field), Beardfish (Mammoth), Damanek (On Track) & Perfect Beings (Vier).
Thursday/Donderdag 12.00 – 24.00
Friday/Vrijdag 12.00 – 24.00
Saturday/Zaterdag 12.00 – 24.00