Art Rock Show – Altered States (Week 33)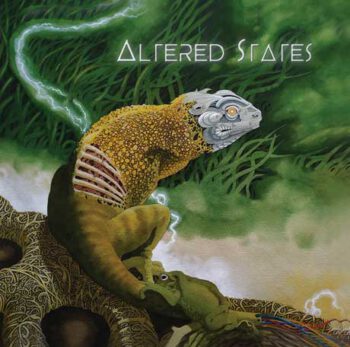 De Canadese componist en multi-instrumentalist Rick Miller debuteerde als soloartiest in 1983 met de new-age productie Starsong, die destijds een zeer respectabele 30.000 exemplaren verkocht. Hij zou deze onderneming opvolgen met Windhaven in 1987, en zijn werk Interstellar Passage uit 1998 en de EP No Passion, No Pain uit 2009 zouden soortgelijke muzikale gebieden blijven verkennen. Voor Prog Archives is Altered States het 17de album van Rick Miller!
The Grande Rock webzine review: "Altered States" is a crossover prog record with 60s, 70s, and 80s influences. The album predominantly draws inspiration from the 70s era, but also incorporates elements from the other two decades. The music can be described as an amalgam of prog rock, atmospheric, melancholic, ambient, psychedelic & pop-rock music. Rick seems to have been mainly influenced by bands such as Alan Parsons Project, Pink Floyd, Genesis, Barclay James Harvest, Moody Blues, and Aphrodite's Child, which contributes to his music's complexity and emotional evocation.
The album's sound is rich and layered, with enough of room for each instrument to breathe. The mix is clean and polished, with a warm and appealing overall sound. The album's instrumentation is also noteworthy. Miller's guitar work stands out in particular, with his virtuosic playing elevating each track. The album also includes a variety of instruments like synths, flute and violin, which give the tracks depth and texture. (…)
All in all, "Altered States" is an amazing album that demonstrates Rick's ability to craft complex and intricate pieces of music that showcase his artistic vision. The album's catchy melodies, thoughtful lyrics, and great musicianship make it essential for everyone who appreciates prog rock music in particular. I guess It's never too late to discover this underrated musician, who creates such wonderful and emotional music."
Naast Rick Miller (Altered States), Cosmograf (The Unreasonable Silence), Spock's Beard (Brief Nocturnes and Dreamless Sleep), Comedy of Errors (Fanfare & Fantasy), Glass Hammer (The Breaking of the World) & Millenium (In Search of the Perfect Melody).
Thursday/Donderdag 12.00 – 24.00
Friday/Vrijdag 12.00 – 24.00
Saturday/Zaterdag 12.00 – 24.00