Art Rock Show – Altitude (Week 16)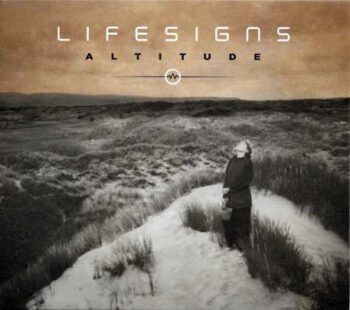 Altitude is het derde studio-album van Lifesigns, het progressieve project dat werd opgestart door John Young, de toetsenist en zanger die heeft samengewerkt met een overvloed aan erg bekende prog-artiesten. Op dit album wordt hij opnieuw bijgestaan door Dave Bainbridge op gitaren en Jon Poole op bas en zang, naast de nieuwkomer en drummer Zoltán Csörsz.
Prog Archives review: "Lifesigns have truly gone up a level. Never had I known a fanbase react so positively, genuinely and emotionally. There are tracks on this album that evoke emotion and bring people to tears – me included. There are guitar solos by David Bainbridge that Mr Gilmour would be proud of. John Young's keyboarding towards the end of 'Fortitude' against a phenomenal and powerful layer of bass always brings a tear. The songwriting, the amazing bass lines by Jon Poole, the genius and complex drumming of new drummer Zoltán Csörsz (ex-Flower Kings) make this, for me at least, a classic album which I haven't yet tired of playing. (…)
I won't go into a track by track analysis of 'Altitude' because, in my opinion, they're all amazing but it's you that need to discover them for yourselves. The songwriting, the musicality, the quality of the production – you discover something new with each listening. My personal favourites amongst all these great tracks are 'Fortitude,' and 'The Last One Home'. The 15 minute epic 'Altitude' kicks the album off and many fans are citing this as their favourite track and this doesn't surprise me. The songwriting on it, the guest musicians and singers, bring another superb layer to this Lifesigns' production. (…)
Altitude is simply a Prog album you must have in your collection and all reputable radio stations should be playing tracks from it. So, if you want to discover a massive contender for Album of the Year, buy this CD or get the download from the Lifesigns website. Then go and see the band 'live' and join a wonderful family. You won't regret it."
Naast Lifesigns met Altitude, Delusion Squared (Anthropocene), Kaprekar's Constant (Fate Outsmarts Desire), Nine Stones Close (One Eye on the Sunrise), The Lens (Regeneration) & Fish (Vigil in a Wilderness of Mirrors).
Thursday/Donderdag 12.00 – 24.00
Friday/Vrijdag 12.00 – 24.00
Saturday/Zaterdag 12.00 – 24.00