Art Rock Show – Banefyre (Week 48)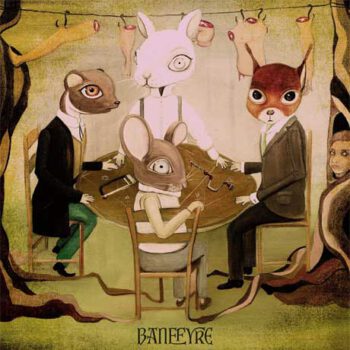 Het nieuwste album van Crippled Black Phoenix, al bijna twee decennia het vehikel van Justin Greaves, is opnieuw een magisch vormgegeven 97 minuten muziek van het Engelse collectief. Het volgt op Ellengæst uit 2020, een album waarop de band verschillende gastmuzikanten in z'n gelederen opnam.
Paul Hutchings van The Razor's Edge: "The 12th album by the band, it provides another insight into the workings of a band so revered within the UK that most people are completely oblivious to their mere existence. This time Greaves and co use 'Banefyre' as a central piece to focus on the persecution of those who are different in society. A play on words, 'Banefyre' is an old translation of Bonfire, those witches and politicians who were burnt alive in the 15th and 18th century.
Opening with 'Incantation for the Different,' written and orated by Chicago-based witch, artist, author, and occultist Shane Bugbee, we set sail on a lengthy and at times captivating journey of post rock. The Salem Witch Trials are covered in 'Wyches and Basterdz,' 'The Reckoning' tackles foxhunting in the UK, unscrupulous politicians get their piece on 'Bonefire' whilst the 1977 New York blackout is the subject in 'Blackout 77,' complete with archived news clips that adds to the eerie feel. (…)
As always with this enigmatic outfit, the music is unconventional, intense, and always intoxicatingly captivating. The band throw their all into every song, with tracks ranging in length from the four-minute 'Everything is Beautiful but Us' to four ten-minute plus songs which included the fabulous progressively gothic vibes of 'Down the Rabbit Hole.' At times the vocals of Belinda Kordic entrance and bewitch, such is her delivery but it's the sum of the parts that makes Crippled Black Phoenix such an interesting and intriguing outfit.
'Banefyre' may be their 12th album, but there is no sign of the inspiration or drive slowing at anytime soon. This album is complex, long but beautifully crafted. It's a release you need to absorb, and that takes plenty of time. Yet even on the first play it grabs you instantly, and pulls you deeply in. Progressive rock at its finest."
Naast Crippled Black Phoenix met Banefyre, Junius (Eternal Rituals for the Accretion of Light), Tides From Nebula (Eternal Movement), Mono (Holy Ground: Nyc Live With the Wordless Music Orchestra), Red Sparowes (The Fear Is Excruciating, but Therein Lies the Answer) & Caspian (Dust and Disquiet).
Thursday/Donderdag 12.00 – 24.00
Friday/Vrijdag 12.00 – 24.00
Saturday/Zaterdag 12.00 – 24.0