Art Rock Show – Beyond the Veil (Week 4)
iNFiNiEN is een rockband uit Philadelphia (VS). Met rock, jazz, soul, world en klassieke invloeden speelt het kwartet ingewikkeld gecomponeerde nummers met een focus op improvisatie. Verre van de typische rockgroep verkennen ze nieuwe klankgebieden door gebruik te maken van exotische toonladders, akkoorden en ritmes.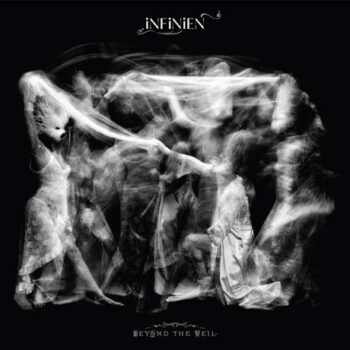 Doug van The Progressive Subway: "The relationship between jazz and progressive music is always an interesting one. Defining the roots of prog as a whole presents a challenge when each artist insists upon claiming their own unique kaleidoscopic snowflake of influences, but the freeform, rule-defying attitude of jazz makes itself heard in most such palettes; nevertheless, jazz fusion usually sets itself apart as a separate label entirely. Constructing their sound around the most chaotic elements of that jazz influence, iNFiNiEN return with Beyond the Veil to show audiences once again how seamlessly jazz and prog can integrate.
Beyond the Veil's opener and title track sounds fantastic. Right away, iNFiNiEN show off their compositional creativity with a monster of a song that doesn't stop thrilling the listener at any point in its nearly seven minutes of heaven. With its frantic and polyrhythmic changes between every complex time signature you can conceive of, "Beyond The Veil" steadfastly resists setting any lasting expectations; expect instead to be surprised and enthralled at each turn as iNFiNiEN dance lightly ahead past whatever they were playing in the prior moment. It would be easy, of course, for this chaotic mode of composition to instead be untenable and overwhelming; for the opener (and most of the rest of the album, at least), it isn't. Despite being unpredictable, the music does follow a sort of structural logic, and after you're through to the other side you can make enough sense of what you just heard. (…)
I'm certainly not alone among prog fans in how much the complexity of music determines my enjoyment of it. With their impeccable sense of rhythm and deep, creative songwriting, iNFiNiEN at their best provide exactly the kind of musical experience I'm looking for. Not every moment can live up to this standard, and most of Beyond the Veil does not excite me quite the way I expected and hoped based on the opening; still, the album provides an enjoyable experience rife with surprises, and its free-flowing composition takes full advantage of jazz's often unspoken contribution to progressive music."
Naast iNFiNiEN met Beyond the Veil, Seven Impale (City of the Sun), Edge of Reality (In Static), The Mercury Tree (Pterodactyls), Exodus to Infinity (Archetype Asylum), Thematic (Skyrunner) & A Formal Horse (Meat Mallet).
Thursday/Donderdag 12.00 – 24.00
Friday/Vrijdag 12.00 – 24.00
Saturday/Zaterdag 12.00 – 24.00