Art Rock Show – Circles in Time (Week 35)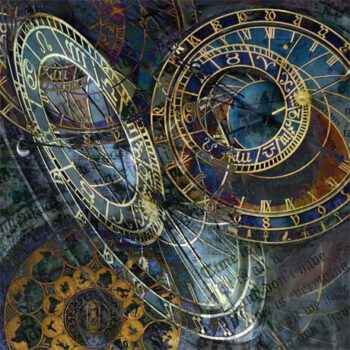 John Holden is multi-instrumentalist en componist afkomstig Cheshire, het noordwesten van Engeland. Hij begon al op jonge leeftijd te musiceren en heeft een bijzondere band met progressieve rock.
Naast John Holden met Circles in Time, Hats off Gentlemen It's Adequate (Nostalgia for Infinity), Mantra Vega (The Illusion's Reckoning), Sintonia Distorta (Frammenti D'incanto), Karibow (From Here to the Impossible) & Pendragon (The Window of Life).
Maarten Goossensen van Prog Wereld: "
John Holden houdt de vaart er goed in. Een jaar na zijn uitstekende album "Rise And Fall" keert hij terug met "Circles In Time". Het recept is beproeft en geliefd: Holden schrijft de muziek en de teksten en bespeelt een aantal instrumenten en voor de rest regelt hij een keur aan uitstekende muzikanten die het, toch al hoge, niveau nog verder opstuwen.
Het lijstje met meewerkende muzikanten is jaloersmakend. Zo maken onder anderen Frank van Essen (ex-Iona), Jean Pageau (Mystery), That Joe Payne (The Enid), Robin Armstrong (Cosmograf) en Pete Jones (Camel, Tiger Moth Tales) hun entrée op dit zilverwerkje. Op het album prijken zes songs, ik neem ze met je door.
Het spits wordt afgebeten door het uptempo Avalanche waarin Mystery zanger Jean Pageau de vocalen mag verzorgen. Het drumwerk van Nick D'Virgilio is hier geweldig en het gitaarspel bij vlagen lekker stevig.  (…)
Al met al past "Circles In Time" prima in het rijtje van vorige albums. Je hoort wel eens van scenarioschrijvers die een film of toneelstuk schrijven met de acteur in gedachten. Ik denk dat John Holden zo ook zijn muziek schrijft. Het zijn met name de vocalisten die hij volledig tot hun recht laat komen en laat shinen en dat alleen al is een kunst op zich."
Thursday/Donderdag 12.00 – 24.00
Friday/Vrijdag 12.00 – 24.00
Saturday/Zaterdag 12.00 – 24.00