Art Rock Show – Cold Coming (Week 44)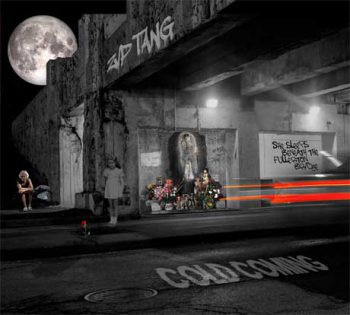 De in Chicago gevestigde Amerikaanse band Zip Tang werd opgericht in 2003. Perry Merritt en Richard Wolfe vonden elkaar tijdens een lokale jamsessie. De groep onderging wel verschillende wissels.
Prog Archives review: "f you're looking for entertaining progressive rock music, Chicago's ZIP TANG are a recommended choice indeed. Definitely experienced, since this will be album number six in the meanwhile, wow. Although, after all, their first concept album on the other side. 'She Sleeps Beneath The Fullerton Bridge' advises the cover illustration, provided yet again in a somewhat surreal, collage-like layout. Hence this is dealing with 'the journey of a girl from the near west side of Chicago, born of a mother of no means, in dire straits and with little hope of making it out of her circumstance', like the band sums it up. So this is taken from the middle of life somehow, this especially given the current times of pandemic, growing poverty and lack of perspective. As the named bridge indeed exists, even may show some real references.(…)
Transmigration – one or two may feel the 'Cold Coming'. Physically, winter in Chicago is said to be rather heavy. As well as mentally in the same way. According to the conceptual context this is quite a challenge, I mean to deliver enjoyable rock music songs anyhow. Though it works, really. Divided in three sections, the brilliant title track proves that, rounds it all up. Please reserve enough time for this masterpiece especially. Beware of Dystopia! Surrender? No way! I'm losing my fear, as long as such albums will appear on the scene again and again. 'Cold Coming' marks a wonderful Heavy Prog work, melodic moments all over the place, but also provided with enough rough edges. Stylistically let's say similar to the band Tiles, if you're asking for some reference. Definitely recommended, easily to check on their bandcamp page."
Naast Zip Tang met Cold Coming hebben we deze week: Azureth (Yesterday's Future, Tomorrow's Past), Sonus Umbra (Winter Soulstice), Brighteye Brison (V), Progression By Failure (Sonic Travelogue) & Fatal Fusion (Total Absence).
Thursday/Donderdag 12.00 – 24.00
Friday/Vrijdag 12.00 – 24.00
Saturday/Zaterdag 12.00 – 24.00