Art Rock Show – Common Ground (Week 46)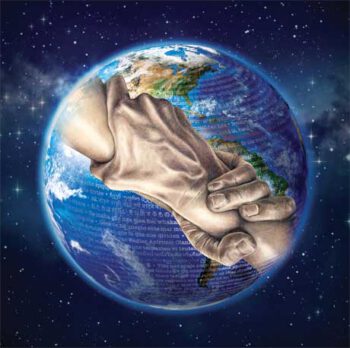 Big Big Train (BBT) is een onafhankelijke progressieve rockband, opgericht in 1990. De band is gevestigd in Bournemouth, Engeland, en de kernleden zijn songwriter Greg Spawton, producer Andy Poole, en zanger David Longdon.
Joshua Batten van Sonic Perspectives: "The result is "Common Ground", which sees bandleaders David Longdon (Vocals, Flute) and Gregory Spawton (Bass, Bass Pedals) working together in the UK, with Rikard Sjöblom (Guitar, Keys, Vocals) and Nick D'Virgilio (Drums, Vocals) sending songs and stems from their homes in Sweden and America, respectively. Traditionally, Longdon and Spawton have handled most of the storytelling, but Sjöblom and D'Virgilio have gradually been bringing in more musical ideas since joining, and they have now reached a point where they are fully integrated into the creative process. Despite being physically separated, there is as much collaboration on "Common Ground" between the four musicians as there would have been if they were all in the same studio. (…)
Twelve years on from their breakthrough album "The Underfall Yard" and almost thirty years on from starting out as a side outlet for Spawton's alternative musical musings, Big Big Train have now reached a point where they know their style and they know their audience. Consequently, "Common Ground" might appear to be on the safe side, with many of the band's familiar tropes and sounds carried out across another 62 minutes of music that could easily be switched out for any of the albums that came before it. However, from a production standpoint, it's been anything but safe: many of the lyrics are much more personal and introspective, and the writing is more of a band effort than ever before. If you've never heard a Big Big Train album before, maybe I'd point you towards "Folklore" or "English Electric" instead, but for long-time fans and passengers, "Common Ground" stands as much as a victim of the circumstances as an necessary step forward in the band's already rich history. Still rooted in the longstanding strengths of Big Big Train, it results in a more diverse and ultimately satisfying album as the band continues to evolve."
Naast Big Big Train met Common Ground, Mostly Autumn (White Rainbow), Magic Pie (King for a Day), Beardfish (+4626-Comfortzone) & Kaipa (Vittjar).
Thursday/Donderdag 12.00 – 24.00
Friday/Vrijdag 12.00 – 24.00
Saturday/Zaterdag 12.00 – 24.00