Art Rock Show – Crime Scene (Week 18)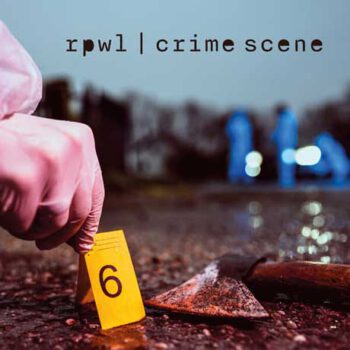 RPWL is een Duitse progressieve rockband uit Freising, Beieren. In 1997 krijgt de band haar definitieve naam en speelt ze in eerste instantie muziek van hun voorbeeld Pink Floyd. De naam van de band is gevormd uit de beginletters van de achternamen van de musici Phil Paul Rissettio, Chris Postl, Karlheinz Wallner en Yogi Lang.
Connor Shelton van The Prog Report: "RPWL have a long history of creating concept albums that dive deep into the way humans interact with certain ideas. They practically made a name for themselves as the little engine that could, a Pink Floyd cover band who started writing their own original music. Those early albums didn't aim for profundity but starting with 2012's 'Beyond Man and Time,' they began to rival their idols in terms of lyrical depth. So it is with 'Crime Scene' that the listener will be astonished at just how far the band has come over 20 years. (…)
The album concludes with "Another Life Beyond Control," which might take inspiration from Karl Denke, a man who was well-respected by his town but who turned out to be a cannibal. While the revelation/influence is gruesome, it presents the most sublime hook in the band's discography. The chorus is a testament to the power of prog, how it's more than just cerebral showmanship and calculated craft. Were the song to sustain this magnificence for the entire runtime, it would be testament to the band being a top tier talent. As it stands, RPWL's ability to render such tender sympathy is only relegated to the chorus, though it's more than enough to help bring the album full circle.
'Crime Scene' is unquestionably another stellar release from the ever-reliable RPWL, but the record's greatest moments hint at a band who are on the cusp of truly crafting a masterpiece. This feeling largely stems from the broad scope of such a record running up against the relatively concise runtime (a respectable 45 minutes in length), a fact which cannot be critiqued too harshly. The album might have benefited with more music in order to provide further insight into the nature of the criminal mind, yet what we're given is already quite compelling. The LP succeeds at evoking potent atmospheres that run the gamut of emotions and does a more tasteful job of telling true crime stories than most other media. These facts are more than enough to warrant investigating this album further, and it's safe to say that 'Crime Scene' is every bit as consistent as RPWL's past few albums."
Naast RPWL met Crime Scene, Gazpacho (Missa Atropos), The Pineapple Thief (Magnolia), Airbag (Identity), Ghost (Hypnotic Underworld), Pink Floyd (The Endless River) & Richard Wright (Wet Dream).
Thursday/Donderdag 12.00 – 24.00
Friday/Vrijdag 12.00 – 24.00
Saturday/Zaterdag 12.00 – 24.00