Art Rock Show – Crush The Seed (Week 20)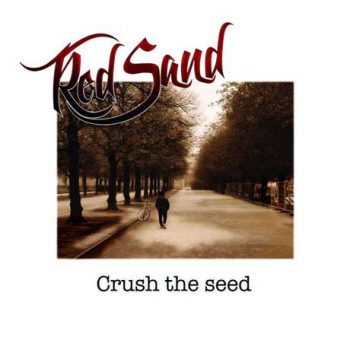 Red Sand is een weinig bekende Canadese groep die nog steeds aan beide zijden van de oceanen opereert. De meeste platen van de groep zijn bovengemiddelde kwaliteit.
Prog Archives review: "Red Sand comes here to release its 9th album by offering a variation on the sounds of Pink Floyd, Gimour being one of the masters of SImon. This opus therefore radically changes the sounds of the Marillion Fish era with which it had quite a few similarities. Red Sand has just released a neo prog wonder quite simply. "Crush The Seed pt1" attacks the album with an intro on acoustic guitar and a phrased voice, a bit in the vein of Arena and its "Crying For Help", a quick interlude, a mouthful before the first slap from the album, "Were They Born Like That?"
A gilmourian digest on a variation of" Shine On You Crazy Diamond "and" One Slip", a title that reminds, reminds, hangs but also gives a free trip to the past-present, let me explain: l 'intro is well worked and gradually stands out from what the Pink Floyd masters were able to create at the time; it also reminds me of the work done by Riverside to take 2 notes from "Wish You Were Here" to go elsewhere, a musical variation in fact as I like to say, a musical space between dinos memories and a recent updated sound; an airy, orgasmic title that cannot leave you indifferent, and in which time seems to stop. (…)
And then there is the other moment around 10 minutes, break, drawer with effect then this declination on the piano and bass on an agreed air English pop atmosphere of the 70's, this military drums and to finish piano and voice for a confidential final, a tone eyeing the intimate titles of "The Wall" with a last solo more posed, more electric and the voice of Steff which comes to close beautifully this epic moment. A long and very easy piece of access. "Dust And Hope" comes to finish the album with the second bonus which does not denote absolutely, which leaves on the same tone as "Fight For Us", a little more nervous however with more airy solo, which takes the repercussions of the voice metronomic; the redundant synth weft becomes mesmerizing to the ears with recessed keyboard air that hooks the ears; a very beautiful title at the end of the course which sounds a neo-prog renewal in this year 2020.
Naast Red Sand met Crush The Seed hebben we deze week: Arena (Double Vision), Pendragon (Concerto Maximo ), Modern-Rock Ensemble (Night Dreams & Wishes), Pink Floyd (Wish You Were Here) & Marillion (Marbles)."
Thursday/Donderdag 12.00 – 24.00
Friday/Vrijdag 12.00 – 24.00
Saturday/Zaterdag 12.00 – 18.00