Art Rock Show – Dominion (Week 9)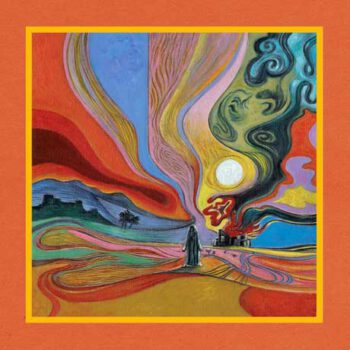 ZOPP is het geesteskind van componist en multi-instrumentalist Ryan Stevenson, met medewerking van Andy Tillison van prog-legende The Tangent en drummer Andrea Moneta (Leviathan).
Prog Archives review: "Stevenson is back for the attack with his multitude of mellotrons, Hammond organs, pianos, synthesizers and all things classic era prog along with percussionist Moneta and seven additional guest musicians and vocalists. Keeping in line with the golden years of prog on vinyl, DOMINION features seven tracks that just squeak over the 42-minute mark with the closing "Toxicity" featuring all the pomp and excess that true prog lovers crave with a running time of over 14 minutes!
Slaving away in their Nottingham studios has been fruitful and the album strikes a pleasant note from the very beginning. Sounding like a classic Canterbury act graced with the benefits of modern mixing and production, "Amor Fati" wastes no time introducing a warm tone that sustains through the entire album. One of the first things that noticeably different from the debut is the use of vocals this time around with not only Stevenson offering his best utterances but also with the divine diva duo of Sally Minnear and Caroline Joy Clarke offering some feminine touches to the nerdy masculine musical workouts. (…)
There has been a great boost of confidence on DOMINION as if these guys have come of age with strong compositions that evoke the visionary carefree craftiness of Supersister with a sense of defiant ambitiousness not heard since The Muffins. Vocal references from Hatfield & The North suddenly give way to electronic weirdness on "Wetiko Approaching" while the closing proggier-than-thou closer "Toxicity" rocks the classics Canterbury style with a vocal led guitar, bass and drum dominant number that showcases some of the tastiest piano playing in any era of Canterbury. And just as soon as it begins it feels like it's over, the sign of a true smashing success. You simply want more! Even Robert Wyatt inspired vocals come to the party!
These guys have scored another huge hit with DOMINION and although many a band has tried to catch those classic Canterbury sounds and bring them into the modern world, few have done so as convincingly as ZOPP and with a second classic album in a row, it seems there is no end in sight! Tightknit grooves – check. Canterbury warmth – here. Fuzz fueled organs and jittery rhythmic grooviness – oh yeah! Excellent compositions that offer more than enough variety to sustain an album's worth of material? Without a doubt! Honestly there's not a weak moment on this one. Add to that this album sounds totally original, not just another tribute to the past. Another major score for Nottingham. Sorry Canterbury, i think ZOPP has successfully usurped the throne and now we must call it the Nottingham Scene!
Naast Zopp met Dominion, Fren (All the Pretty Days), The Muffins (Double Negative), All Traps on Earth (A Drop of Light), Drifting Sun (On the Rebound) & Homunculus Res (Andiamo in Giro Di Notte E Ci Consumiamo Nel Fuoco).
Thursday/Donderdag 12.00 – 24.00
Friday/Vrijdag 12.00 – 24.00
Saturday/Zaterdag 12.00 – 24.00