Art Rock Show – Escape of the Phoenix (Week 15)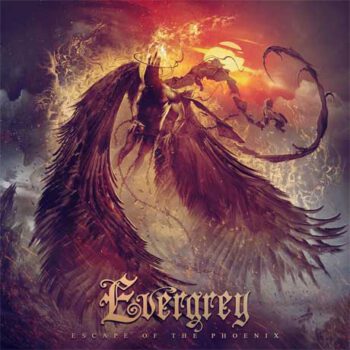 Om maar met de deur in huis te vallen: de Zweedse progressieve metalband Evergrey bestaat al een kwart eeuw. Begin dit jaar kwam het twaalfde album 'Escape Of The Phoenix' van de band uit.
Mark Van Mullem van Luminous Dash: "Geschreven en opgenomen tijdens de schijnbaar eeuwig durende covid-19 pandemie, klinkt het album iets zwaarder dan diens voorganger The Atlantic, met compactere songs ook. Alle composities zijn van de hand van zanger-gitarist Tom S. Englund en drummer Jonas Ekdahl. Englunds teksten zijn een stuk persoonlijker dan op de vorige drie platen. Hij hoefde deze keer natuurlijk geen rekening te houden met het afgesproken concept, wat bij de trilogie wél het geval was. Veel meer op zich staande songs dus. Dat resulteerde in een (a)typische Evergrey-plaat, misschien een soort van best of, maar dan met nieuwe songs…
(…) De titeltrack knalt lekker, met ook hier alle Evergrey-ingrediënten aan boord. Lekker, erg lekker zelfs, maar het klinkt wat obligaat en maakt Escape Of The Phoenix net niet tot verhoopt hoogtepunt van de plaat. Dan liever het tegelijk dreigend, donker en ronduit wanhopend klinkende Leaden Saints dat als voorlaatste song op deze plaat prijkt. Nog een favorietje, deze Leaden Saints. De gitaren gieren met grote graagte, de drums beuken als ware de apocalyps nabij. En ook hier valt op hoe goed die vocalen van Englund toch zijn, wat nogmaals bevestigd wordt met het ei zo na wat poppy aandoende wonderlijk mooie Run dat het album besluit.
Voor Englund is songschrijven, na 25 jaar in het vak, nog steeds een soort van therapie en bevrijding; hij kan zijn demonen uitdrijven, zaken van zich afschrijven. En dan zitten wij ermee opgescheept natuurlijk. Maar wat zou het: zolang het een sterk album oplevert, zoals deze Escape Of The Phoenix? We zijn misschien niet even enthousiast over alle nummers, maar de plaat, in een productie van Jacob Hansen, klinkt als een klok. Englund zingt beter dan ooit en wat ons betreft is Evergrey nog steeds de onbetwiste koning van de dark melodic metal!"
Naast Evergrey met Escape of the Phoenix, Pyramaze (Epitaph), Darkwater (Human), Spheric Universe Experience (Mental Torments), Redemption (Snowfall On Judgment Day) & Royal Hunt (Intervention).
Thursday/Donderdag 12.00 – 24.00
Friday/Vrijdag 12.00 – 24.00
Saturday/Zaterdag 12.00 – 24.00