Art Rock Show – Exotic Creatures and a Stolen Dream (Week 5)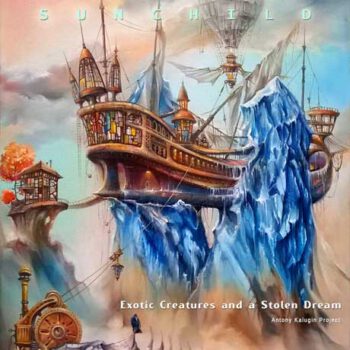 Bijna vier jaar in de maak keert Antony Kalugin terug met twee monsterlijke progressieve tracks die ons doen denken aan de hoogtijdagen van het genre, muziek die naadloos zijn web weeft van de ene muzikale sectie naar de andere en weer terug, met melodieën en passages die het hart van alle prog hoofden op hol brengen.
Prog Archives review: "Yesterday was the official release date for the latest offering of Ukraine's No. 1 prog maestro Antony Kalugin. In the last few years he has operated productively under his own name and Karfagen. This is the first Sunchild album since 2018 when "Messages from Afar – The Division and Illusion of Time" was released as some sort of sequel to a 2017 Karfagen album.
It's not so easy to see any major differences between various Antony Kalugin projects, but perhaps one could claim Sunchild to be slightly more song-oriented. On previous albums there has often been a certain pop sensibility as well, and the soundscape is a bit more electrified and modern compared to Karfagen's tradition-friendly Symphonic Prog. This album doesn't show a strong attempt to emphasize the differences: I suppose in theory this could be a Karfagen album, and the compositional structure surely follows the tendency of recent albums. That is, two long pieces served with some bonuses that recycle the material of the main work. Can't say I'm thrilled by this habit of the bonuses (I do see the practical point of including the single edits and such), because naturally I'd prefer the CD to contain more than two equal pieces instead. (…)
With or without taking the bonuses into the equation, Exotic Creatures and a Stolen Dream is a strong and finely produced four-star prog album warmly recommended to everyone ever having enjoyed the works of Antony Kalugin. And if you haven't yet, why not give this one a chance!"
Naast Sunchild met Exotic Creatures and a Stolen Dream, Sky Architect (A Billion Years of Solitude), Brighteye Brison (Believers & Deceivers), Quidam (Strong Together), Brother Ape (Karma) & Hoggwash (The Last Horizon).
Thursday/Donderdag 12.00 – 24.00
Friday/Vrijdag 12.00 – 24.00
Saturday/Zaterdag 12.00 – 24.00