Art Rock Show – Fearless (Week 32)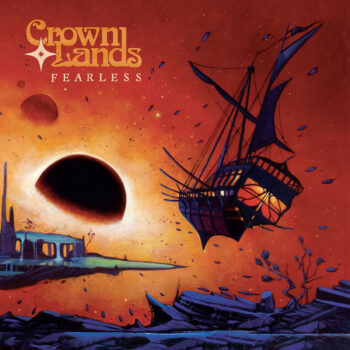 Crown Lands is altijd een studie in contrasten geweest – en dat gaat verder dan de unieke culturele samenstelling van de Joodse multi-instrumentalist Kevin Comeau en de Two- Spirited Mi'kmaq zanger/drummer Cody Bowles. Op hun titelloze debuutalbum uit 2020 leek Crown Lands op een rauw bluesrock powerduo met latente progrockaffiniteiten, dat laveerde tussen boogie grinds en pastorale mijmeringen. Maar op Fearless klinkt de groep uit Oshawa, Ontario niet zo conflictueus, omdat ze zich volledig en onvoorwaardelijk hebben overgegeven aan hun rockopera-ambities.
Bluestown Music review: "Op hun debuutalbum 'Crown Lands' uit 2020 mengden zij nog bluesdrock met progrock maar het gaat op hun nieuwe album compleet over progrock. En het is vooral het geluid van de eveneens Canadese progband Rush dat volop aanwezig is. En dat komt niet alleen door het Geddy Lee-achtige hoge stemgeluid van Cody Bowles maar zeer zeker ook door het krachtig rockende geluid dat vol zit met de meest ingenieuze breaks.
Hun nieuwe album is een rock-opera, die beïnvloed is door Science Fiction. Zoals het bij een progband hoort opent Crown Lands hun album met het lekker lange (ruim 18 minuten) Starlifter: Fearless Pt. II. Een majestueus prognummer met stuwende riffs, hoge Geddy Lee zang en jankend gitaarwerk. (…)
Na een zwevend intro opent vervolgens het felle en hoekige Reflections. Het akoestische Penny is het rustpunt van dit album. Het log groovende Lady Of The Lake en de breekbare progballad Citadel sluiten dit album op een zeer overtuigende wijze af. Het moet raar lopen wil dit album van Crown Lands niet in de hoogste regionen van mijn jaarlijst van 2023 terecht komen."
Naast Crown Lands (Fearless), Flying Colors (Second Nature), Marillion (Sounds That Can't Be Made), Peter Gabriel (Uo) & Fish (Scattering Crows: Live at the Robin 2, Bilston Feb 18th 2004).
Thursday/Donderdag 12.00 – 24.00
Friday/Vrijdag 12.00 – 24.00
Saturday/Zaterdag 12.00 – 24.00