Art Rock Show – Fire Fortellinger (Week 35)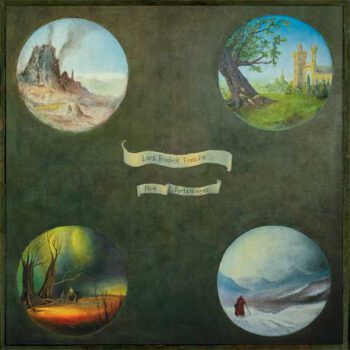 Lars Fredrik Frøislie is de toetsenist toetsenist bij Noorse Prog Rockers van Wobbler en heeft zijn eerste solo plaat klaar. Old school prog rock dus met tonnen vintage keyboards…
Friso Woudstra van Prog Wereld: "Juist voor deze groep mensen is er nu een cd/lp uitgebracht door toetsenist Lars Fredrik Frøislie, bekend van het succesvolle Noorse Wobbler. Het album "Fire Fortellinger" brengt de geliefde orgel- en Mellotronklanken op enthousiaste wijze opnieuw tot leven. Het album heeft een analoog geluid en alles is in een opwelling opgenomen, met zo weinig mogelijk takes, dan maar een klein menselijk foutje dat je kunt horen. Het komt de spontaniteit daadwerkelijk ten goede. De productie heeft een mooi breed en zelfs dynamisch geluid dat wellicht ook een audiofiel kan aanspreken.
Frøislie nam het album op tijdens de coronatijd en eigenlijk hadden sommige van deze stukken best aan de basis kunnen staan van een Wobbler-album, maar daartoe was er even geen gelegenheid. (…)
Frøislie nam echter alles zelf op, behalve de basgitaar. Ook de Rickenbacker van Nicolai Hængsle (Elephant9, Needlepoint) geeft de bekende kletterende klanken. Het geeft de plaat de nodige power die natuurlijk makkelijk ontbreekt als er geen elektrische gitaar is. Een nummer als Jærtegn kan dan nog verrassend punchy uit de hoek komen.
Natuurlijk kan ik nog vele alinea's doorpraten over deze plaat, maar eigenlijk is deze recensie een beetje overbodig. Het kan namelijk ook zo: Mellotron. Hammond. Rickenbacker. ELP. Retro. Verkocht. "
Naast Lars Fredrik Frøislie (Fire Fortellinger), Arabs in Aspic (Madness and Magic), Kaprekar's Constant (Fate Outsmarts Desire), Ring Van Möbius (Past the Evening Sun), Guranfoe (Sum of Erda), Sunchild (The Invisible Line) & Wobbler (Hinterland).
Thursday/Donderdag 12.00 – 24.00
Friday/Vrijdag 12.00 – 24.00
Saturday/Zaterdag 12.00 – 24.00