Art Rock Show – Four (Week 36)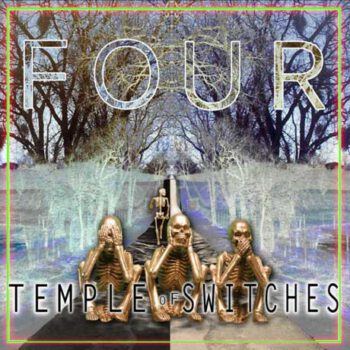 Temple of Switches is een studio prog band uit Californië, opgericht door multi-instrumentalist Tenk van Dool. 'Four' is het vierde album van de band, waarop een mengeling van rock, jazz en klassieke invloeden te horen zijn.
Prog Archives review: "Along comes the opportunity to chart new musical discoveries, accepting to listen intently and review something completely unfamiliar, when asked nicely by an artist looking for some much-needed exposure. Tenk Van Dool is a fine Dutch name but works out of the USA, as a mainly a two-man show, as Tenk skillfully handles a rather superb and reptilian bass, as well adorning powerful keyboards, guitars and vocals, while drummer David White completes the roster. The music is punchy, crisp, somber, thoughtful, brash and rebellious. This is their fourth album and quite the revelation I must say, as anything led by a nasty bass is often cause for some intense celebration. What also strikes me upon my initial go through, is that the material is quite original in that no apparent or overt influence jumps to the fore, occasionally heavy, suddenly jazzy, often dissonant, never boring or trite, constantly adventurous. (…)
The epic "The Unfurling" stretches out over 10 minutes, flexing musical muscle and creative juice and displaying complex subtleties that will keep your ears on edge. The superlative playing is over the top genius, as the band shows an uncanny ability to keep things fascinatingly unpredictable whilst remaining utterly enjoyable, distributing abundant contrasts between shade and shine, tossing jolly frills along the way, such as the surprising piano section that really grabbed my attention. The uncoiling mood is soft one moment and jarring the next, distorted but very strategic, a clear sign of thoughtful dramatis. (…)
A very entertaining entry, which I will surely revisit (next long road trip, LOL) as well as a band I intend to discover more releases past and future. Well done."
Naast Temple of Switches met Four, Tiger Moth Tales (The Whispering of the World / the Quiet Room Session), Karibow (From Here to the Impossible), Hats off Gentlemen It's Adequate (Nostalgia for Infinity) & Isildurs Bane (Mind, Volume 2 – Live).
Thursday/Donderdag 12.00 – 24.00
Friday/Vrijdag 12.00 – 24.00
Saturday/Zaterdag 12.00 – 24.00