Art Rock Show – Ghost Story (Week 29)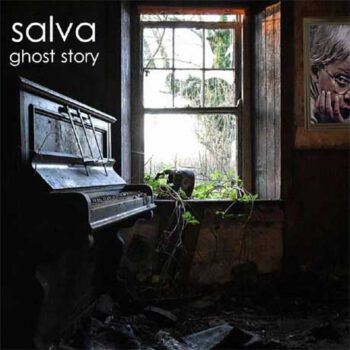 De Zweedse progressieve rockband Salva heeft onlangs hun nieuwste album, Ghost Story, uitgebracht op Rob Reed's White Knight Records. De band werd opgericht in 2003 in Göteborg en heeft al zes albums uitgebracht. Componist Per Malmberg beschrijft als een eenvoudig verhaal van een verlegen, introverte jongen die op jonge leeftijd een overweldigende passie voor muziek ontdekt.
Leo Trimming van The Progressive Aspect: "Salva develop this story as an imaginative vehicle to interweave an engaging mix of progressive rock, hard rock, pop and even hints of folk.
Ghost Story commences with an impressive trio of pieces which exemplify the fine song writing skills of main man Per Malmberg. These three compositions introduce us to a young man awakening to the enchantment of music, then his discovery of the joys of a piano, and then the fateful first gig with his band. Opener Awakening starts with a Mellotron and then the full band joins with a synth melody overlay. (…)
This is a thrilling piece of old school 'Prog' with some quirky elements. Erik Zetterlund drives this opening behemoth on with fine drumming, deftly switching from subtle to heavy with great dexterity.
Awakening is a captivating and vibrant piece to open Ghost Story and grab the listener. Salva make sure to keep one's interest on the following Discovery. It which opens with a pastoral 12-string guitar early-Genesis style intro before the piece erupts with an '80s Marillion swirling keyboard fanfare and a soaring electric guitar. A forceful rocking theme drives the story on with lyrics very akin to the main character in Rush's 2112 discovering a guitar, only this time our hero stumbles across a piano, stating ecstatically "I am Born, I am Free, this is Me." This is a real ear worm of a song with a catchy melody, slick guitar work and some ethereal harmony vocals, portraying the central 'Ghost' character. (…)
Setting aside slight reservations about a slight loss of momentum in the middle, Ghost Story is undoubtedly a very well written and skilfully performed album of engaging rock with an interesting array of influences. Somehow Salva have not appeared on my radar previously. On the evidence of this largely excellent album, Salva's back catalogue is certainly worth exploring, and we can look forward with anticipation to future high-quality albums from this fine Swedish band."
Naast Salva met Ghost Story, Flaming Row (The Pure Shine), The Windmill (Tribus), Brighteye Brison (Believers & Deceivers), Franck Carducci (Tearing the Tour Apart) & Transport Aerian (Bleeding).
Thursday/Donderdag 12.00 – 24.00
Friday/Vrijdag 12.00 – 24.00
Saturday/Zaterdag 12.00 – 24.00