Art Rock Show – Give It Back (Rewired) (Week 34)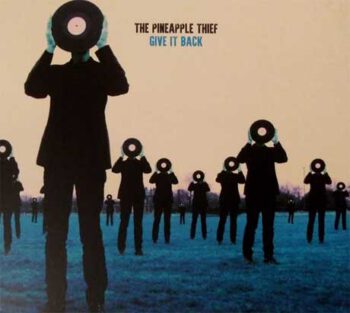 The Pineapple Thief ontstond in 1999 uit de resten van de groep Vulgar Unicorn. Centrale man van The Pineapple Thief is Bruce Soord, een in Duitsland geboren musicus en componist. Tot 2002 blijft het een studioband, daarna wordt op veelvuldig verzoek van de fans een band geformeerd om concerten te geven.
Raymond van The Progspace: "Back in 2016 drummer Gavin Harrison (King Crimson, Porcupine Tree) joined the ranks of The Pineapple Thief, instantly adding a whole new dimension to the band's overall sound. (…) In order to celebrate The Pineapple Thief's current tour, they decided to release an album full of reworked songs from the band's back catalogue, entitled "Give It Back (Rewired)".".
Gavin Harrison is no stranger to reworking and reimagining songs, as he released "Cheating The Polygraph", an album full of reworked Porcupine Tree tracks in a jazz/fusion type musical setting back in 2015. As a jazz/fusion adept, I still admire the vision and sheer audacity of said record.
Compared to "Cheating The Polygraph", "Give It Back (Rewired)" has a more traditional approach and sees Bruce Soord and co stick to their patented Radiohead/U2 with a progressive touch approach. They got one ace upon their collective sleeve, namely Gavin Harrison's creative and musical approach to drumming. (…)
"Give it Back (Rewired)" is handled with love, integrity and dedication by Bruce Soord and company. The album serves as a brilliant introduction to some of the band's more obscure material. It's also a stark reminder how important Gavin's drumming style has become for Bruce Soord's musical vision and the overall sound of The Pineapple Thief. I'm sure that "Give It Back (Rewired)" will find its way to my year list one way or another. A lovely record!"
Naast The Pineapple Thief met Give It Back (Rewired), Our Oceans (While Time Disappears), Major Parkinson (Twilight Cinema), Frequency Drift (Over), Shadow Gallery (Room V) & Night Verses (From the Gallery of Sleep).
Thursday/Donderdag 12.00 – 24.00
Friday/Vrijdag 12.00 – 24.00
Saturday/Zaterdag 12.00 – 24.00