Art Rock Show – Homeless (Week 16)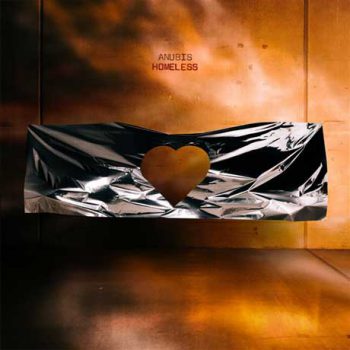 Anubis is een zeskoppige band afkomstig uit Australië die aangenaam in het oor liggende neo-prog muziek maakt. Vaak zijn dit songs die tien minuten en langer duren. Velvet Thunder review: "Their 2014 effort Hitchhiking To Byzantium has been their best received album so far critically. Fast forward to the present day and here comes their sixth album Homeless. Lyrically, the band has always been thoughtful and there's no exception here as they reflect from various angles upon an individual's perception of the world in 2020. But musically, those of you familiar and happy with a diet of Anubis' previous albums might be in for a bit of a shock. The first warning sign is in the length of the album and the songs. Instead of getting eight or nine tracks lasting a good 70 minutes including one or two of epic length, we get nine tracks lasting a meagre 41 minutes, most of which are around the five minute mark.
As if to gently introduce us to the band's change in direction, the album opens with the longest track, Reflective, which clocks in at just over seven minutes. This track is also closest to their previous neo-prog style, especially in the Steve Rothery touches on guitar, but it also has a new found intensity and conciseness in the composition. This new found conciseness continues in the kaleidoscope of styles that follow. Entitled has slow grinding chords and a chorus that sounds oddly like Oasis in slow motion. White Ashes follows with its pop sensibilities and it's clear by now that we are not going to get any slabs of polite neo-prog in the style of groups like Arena but instead the sound is much grittier and sometimes dissonant. We're more in the territory of Lonely Robot or post OK Computer Radiohead, with closing track Gone a clear example of that Radiohead influence. (…)
I would encourage you to listen to this album but (to paraphrase a well-known saying) I would add: if at first you don't enjoy it, try and try again. With such dense writing, it is hard to absorb first time round and this is definitely an album that benefits from repeated listens. There's a depth and maturity to the writing which means there's more meat in these 41 minutes than in their much longer predecessors. Keyboardist David Eaton has said about the album 'I've certainly tried to incorporate new colours for us that brings it – I'd hope – into a more contemporary light' and I'd agree that the band have succeeded well in making an album that has a contemporary rather than retro feel. If you listen to this album followed by some of their earlier material then like me you might get a sense that in the past they were safely doing neo-prog-by-numbers whereas with Homeless Anubis have stretched themselves, creating their own unique sound that is well worth listening to. Whether this will please die-hard Anubis fans or alienate them, I don't know, but it's a certainly a brave and interesting change of direction. And surely that is what prog is all about!"
Naast Anubis met Homeless hebben we deze week: Edison's Children (In The Last Waking Moments…), Airbag (The Greatest Show On Earth), Blind Ego (Numb), The Sea Within (The Sea Within) & RPWL (Start the Fire – Live).
Thursday/Donderdag 12.00 – 24.00
Friday/Vrijdag 12.00 – 24.00
Saturday/Zaterdag 12.00 – 18.00