Art Rock Show – Hymns for Hungry Spirits, Vol. II (Week 17)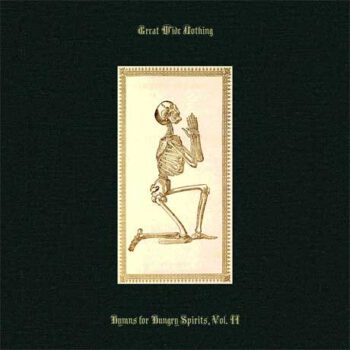 De band Great Wide Nothing is overduidelijk geïnspireerd door de jaren zeventig prog. Maar ze hebben ook een ruw randje en dat maakt de muziek onweerstaanbaar. Grote klasse als je 't ons vraagt…
Jacco Stijkel van Prog Wereld: "Het mooie is ook dat Great Wide Nothing elke cd weer beter wordt. Neo-prog heeft best een imagoprobleem als het gaat om platgetreden paden. Maar deze Amerikanen lukt het om precies net niet binnen de lijntjes te kleuren waardoor een interessant palet ontstaat.
Blind Eye To A Burning House is direct een heel lekker en overdonderend begin van hun nieuwe cd "Hymns For Hungry Spirits, Vol. II". Ik houd ervan als een band het meent en mij meeneemt en onderdompelt in de muziek. Dit is energieke prog, met lekkere toetsen. Great Wide Nothing klinkt urgent en euforisch. Dit is wat ik bedoel met vollgass symfo. Zelf noemen ze punkinvloeden. Muzikaal hoor ik dat niet, wel de vibe en de benadering. (…)
Magnum opus op deze plaat is To Find The Light, Part Two. Bijna twintig minuten klokt deze epic, en vooral ook voor de liefhebbers van lange instrumentale passages is het smullen geblazen. Een speciale vermelding verdienen de fijne toetsen van Dylan Porper. Na pianoklanken volgt er een heerlijk spacy motiefje. Daarna ontploft het nummer en vervolgens komt juist weer een songgericht gedeelte. Wat volgt is een lang instrumentaal stuk waar de rechtgeaarde neo-progliefhebber blij van wordt; in de beste IQ/Galahad-traditie, zeg maar. Wie wil dat nu niet?
Kortom, Great Wide Nothing overtuigt met dit album wat mij betreft. Als ik het goed begrijp houden de heren het bij twee delen van "Hymns For Hungry Spirits". Neemt niet weg dat ik zeker 'hungry' ben naar meer werk van deze Amerikanen. Puike plaat."
Naast Great Wide Nothing met Hymns for Hungry Spirits, Vol. II, Lobate Scarp (You Have It All), The Aaron Clift Experiment & Big Wy's Brass Band (The Age of Misinformation), Pallas (Wearewhoweare), Kyros (Vox Humana) & Flamborough Head (Live in Budapest).
Thursday/Donderdag 12.00 – 24.00
Friday/Vrijdag 12.00 – 24.00
Saturday/Zaterdag 12.00 – 24.00