Art Rock Show – Insolubilia (Week 39)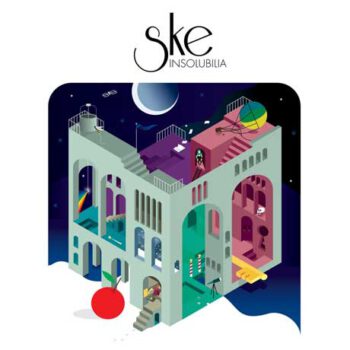 Ske is het soloproject van Paolo "Ske" Botta, een uitmuntende Italiaanse toetsenist, componist, en arrangeur. Hij is ook actief in bands als Yugen en Not a Good Sign.
Prog Archives review: "And just like 1000 Autunni at one time, insolubilia has also become a very excellent work, which will certainly take one of the top places in my personal selection for album of the year 2021.
Paolo Botta therefore plays various keyboard instruments, and there are also numerous guests who, in addition to "normal" rock music instruments, also contribute various types of wooden and tin fans, harp, violin and various percussion instruments. There is also a bit of singing, with only one piece having correct text, otherwise there are at most textless vocal interludes. Most of the pieces are completely instrumental. Among the guests there are some illustrious names, such as members of Camembert, Five Storey Ensemble, Loomings and Ciccada. Well, these bands are not very well known, but anyone who has followed newer prog rock scene should know about them.
Mr. Ske is again offering key-dominated prog on his new album. Not only is it arranged in an original and colorful way, the compositions are also varied, complex, occasionally with a tendency towards RIO / Avant-Prog; the music always remains melodic, even if the melodies are anything but smooth, but mostly with neat corners and edges. However, they are not so sharp that you could seriously injure yourself. Stylistically, there are excursions into the field of symphonic progressive rock as well as excursions into contemporary chamber music or jazzy areas, there are ethereal floating pieces as well as powerful and dynamic, in short: insolubilia is, so to speak, the synthesis of everything that makes progressive rock music so exciting. Great!"
Naast Ske met Insolubilia, Not a Good Sign (Icebound), Carptree (Nymf), Corvus Stone (Corvus Stone II), Yugen (Iridule), Höstsonaten (Summereve) & Big Big Train (Merchants Of Light).
Thursday/Donderdag 12.00 – 24.00
Friday/Vrijdag 12.00 – 24.00
Saturday/Zaterdag 12.00 – 24.00