Art Rock Show – Liars (Week 10)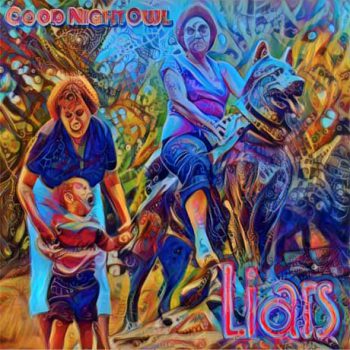 Good NightOwl is de naam van de componist/kunstenaar Daniel Lewis Cupps. Cupps is ook een komedieschrijver, producent en acteur. De muzikant zegt zelf: "Mijn project is erop gericht om het publiek in de loop van de tijd een zelfproducerende muzikant te zien groeien met nauwelijks een budget. Sommige nummers zijn bedoeld om grappig te zijn. Sommige zijn serieus. Als je denkt dat ze allemaal grappig zijn… dan zijn ze allemaal bedoeld om grappig te zijn."
Prog Archives review: "Liars is a concept album telling a story about a pathological liar who uses a false theory that liars are only proof that there are alternate timelines. That's definitely an interesting concept, and the story is expressed in an amazing beautiful vocal harmony created from layers of voices that sound very much like the harmonies in "Fleet Foxes" music, and since I am a fan of that innovative indie-folk band, I am also fond of the vocals here. But that is where the comparison ends and the interesting instrumentation and rhythmic structures make this quite an entrancing progressive work.
There are some scattered style usage here, including the nice symphonic sound on the title track "Liars" that also mixes an intriguing art-pop style that puts this album way above the musical norm. It's airy and light with fluttering instrumentation and orchestral effects at times, the sound going through some unexpected textural manipulations that help to paint the picture of the overall storyline. Later, the guitar lines and the orchestral effects contradict each other creating some nice dissonant harmonies, yet it all stays surprisingly lush and wonderful. (…)
In addition to nice melodic tugs we get Emerson inspired keyboard antics, Steve Howe=esque guitar wankery and prog chops that make proggers have to decide in which dimension they reside. The vocals are sublime and there are even off-kilter tracks like "Pressure" that add a little oom-pah-pah to the mix. There are times when the vocals even sound a bit like George Michael but despite all the obvious references to 80s classic pop shop, GOOD NIGHTOWL manages to keep it all tastefully delivered. When all is said and done, i think of this one-man b and as sounding more like Muse for all the progressive pop sensibilities are on full fire and the changes evoke a highly evolved sense of musical understanding. Wow. This totally makes me want to explore this dude's work beyond this one album. This is a truly a brilliant self-composed masterpiece. Wow. Wow. Wow. Released on New Year's Day, so far my fave album of the year! I predict this will still be on the my personal charts even after 360+ days :)"
Naast Good NightOwl met Liars hebben we deze week: Modern-Rock Ensemble (Touch the Mystery), Bent Knee (You Know What They Mean), Il Giardino Onirico (Perigeo), Drifting Sun (Trip the Life Fantastic), The Tea Club (Quickly Quickly Quickly) & Stratus Luna (Stratus Luna).
Thursday/Donderdag 12.00 – 24.00
Friday/Vrijdag 12.00 – 24.00
Saturday/Zaterdag 12.00 – 18.00