Art Rock Show – Madness and Magic (Week 45)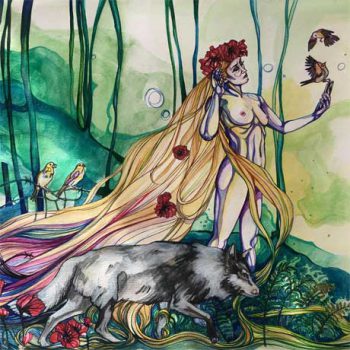 Arabs In Aspic is een band die – u raadt het nooit – afkomstig is uit Trondheim, Midden-Noorwegen. Dit is het eerste album op het Noorse proglabel Karisma. De bandnaam is geïnspireerd op een King Crimson album.
Henk Vereecken van Dark Entries: "De band maakt in hun veelkleurige, dynamische en symfonische sound gebruik van twee drummers, van luide, soms heavy gitaren in combinatie met rustige (pseudo)akoestische gitaarstukken en van een veelvoud aan toetsen met hammond orgel, rhodes piano, mellotron en seventies synths en dit alles opgewaardeerd met vocale harmonieën, zoals je die ook aantreft bij de grote voorbeelden uit de seventies.
De knappe opener "I Vow To Thee, My Screen" laat al ineens zien waar het album voor staat: voor vrij karakteristieke, maar wel erg knap opgebouwde, soms heavy prog en symfonische rock. (…)
"Madness And Magic", de titelsong en voorlaatste track is ook een absolute topper. 'You are in bed with a nun' horen we de zanger ergens zingen met zware stem en volgens mij wordt er in dit nummer ook een theremin gebruikt of toch een theremin effect.
Het album eindigt met het magnum opus "Heaven In Your Eye" dat bijna18 minuten duurt, met veel tempowisselingen, gierende gitaren en wervelende orgels en keyboardklanken.
Supergrote originaliteit moet je bij deze Arabieren in gelei nu niet gaan zoeken maar ze maken wel schitterende prog in de beste seventies traditie. Voor fans van Atomic Rooster, Blue Öyster Cult, Styx, Van Der Graaf Generator, Eloy, Yes, Genesis, Pink Floyd, King Crimson, Deep Purple en Uriah Heep en andere oude prog- en protohardrockhelden van de seventies en eind sixties. Een heel mooie aanwinst voor de liefhebber van (heavy) prog."
Naast Arabs in Aspic met Madness and Magic hebben we deze week: Shaman Elephant (Wide Awake but Still Asleep), Nick D'Virgilio (Invisible), Porcupine Tree (Fear Of A Blank Planet), Professor Tip Top (Life Is No Matter), Yogi Lang (A Way out of Here) & Cosmograf (When Age Has Done It's Duty).
Thursday/Donderdag 12.00 – 24.00
Friday/Vrijdag 12.00 – 24.00
Saturday/Zaterdag 12.00 – 24.00