Art Rock Show – Magick Brother & Mystic Sister (Week 1)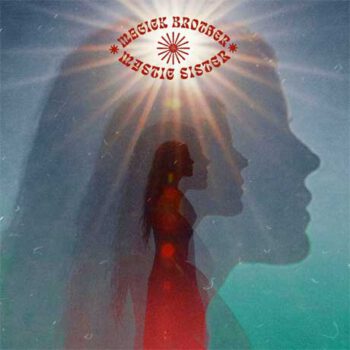 Voor de overgang van oud naar nieuw dachten we aan wat leuke psychedilische muziek. Psychedelica is door de jaren heen altijd een belangrijke inspiratiebron geweest. De eersteling van de Spaanse band Magick Brother & Mystic Sister lost die verwachting zeer goed in. Vernieuwend maar ook vertrouwd en beetje retro. Moet kunnen. De naam van de groep is trouwens ontleend aan het tweede album van de Brits-Franse spacerockband Gong. Daevid Allen was een vriend en inspiratiebron voor dit kwartet uit Barcelona.
Prog Archives review: "Let me tell this is just the psychedelic and prog I was wanting! This band hails from Barcelona, Spain with two guys and two ladies, with Maya Fernandez on flute, Eva Muntada on keyboards and vocals, Xavi Sandoval on bass and guitars, and Marc Tena on drums and vocals. They all recorded all this in a studio in Park Guell, a park that was built by none other than Antoni Gaudi. "Utopia" gives this truly wonderful psychedelic vibe right out of the box, so to speak with minor chord guitar riffs and dreamy wordless female voices, then the band goes into a wonderful organ and synth solo, often compared to something off Caravan's If I Could Do It All Over Again, I'd Do It All Over You ("As I Feel I Die" in particular, but that's the one Caravan song that most resembles Soft Machine).
Then it goes in Gong territory with that David Allen-style glissando guitar, exactly the thing I want to hear in a psychedelic album! "Waterforms" keeps that wonderful psychedelic vibe, with more nice female vocals, and Mellotron flutes. "The First Light" is in Pink Floyd territory, with Marc Tena trying to sound like David Gilmour with a psychedelic voice filter. "Yogi Tea" really blows me away with that nice late '60s sounding flute. A bit of a Soft Machine feel can be felt in this piece, but there's also some nice synths as well. "Arroyo del Buho" has a bit of that Spanish and Middle Eastern feel to it. Then a bit of that symphonic prog feel is to be had with the Mellotron, then it goes into more jazzy territory. "Echoes from the Past" starts off with some dreamy electric piano before it goes into clear Soft Machine territory (reminding me of something off Volume Two) until the female vocals kick in, then it sounds like Soft Machine with female vocals. "Love Scene" is an instrumental jazzy organ piece reminding me of something Hansson & Karlsson would do. "Instructions for Judgement Visions" is really interesting for that narration and strange synth piece.
Listening to this album you may easily be fooled for a recording from the late '60s and early 70s. No nasty digital production to be found here, no modern sound or production, it's as retro as they come. And how can you resist Maya Fernandez's flute playing? Her style is clearly not in the Ian Anderson style, her style reminds me of something Jimmy Hastings would do.
Fans of Gong, Soft Machine, and Caravan will find lots of dig here. The music is quite accessible to the point even the prog-phobic would love this, but still plenty proggy enough for the proghead to enjoy. (…)"
Naast Magick Brother & Mystic Sister met Magick Brother & Mystic Sister, Ring Van Mobius (Past The Evening Sun); LogoS (L'enigma Della Vita), Magic Bus (Phillip the Egg), Green Seagull (Scarlet Fever), Submarine Silence (Journey Through Mine) & Pink Floyd (The Endless River).
Thursday/Donderdag 12.00 – 24.00
Friday/Vrijdag 12.00 – 24.00
Saturday/Zaterdag 12.00 – 24.00