Art Rock Show – Making Shore (Week 7)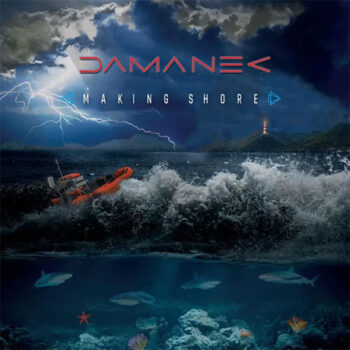 Nieuwe plaat van Damanek, de muziekgroep rondom Guy Manning. Manning is een muzikale duizendpoot en is al actief sinds de jaren zeventig. Prog Nick van The Prog Report: "Multi-instrumentalist, singer and composer Guy Manning, together with keyboardist Sean Timms and saxophonist/keyboardist Marek Arnold, have been the core of the band since its inception in 2017. With Damanek's third studio album 'Making Shore', the band's tradition of engaging a long and respected list of guest artists has been continued. This list includes Nick Sinclair and Jonathan Barrett on basses, Southern Empire's Brody Thomas Green and Cam Blokland on drums and guitar respectively, trumpeter Riley Nixon-Burns, flautist Linda Pirie and backing vocalists Julie King, Kevin Currie and Amanda Timms.
Manning's vocal timbre takes some getting used to. It is (for me) often reminiscent of Ian Anderson in his halcyon days. There is also a Tangent-style low-end lilt to his voice that sometimes detracts from the comfortable spaces created by the music. But once the distinctiveness of his vocal style sinks in, the music takes over. (…)
The production is consistently excellent throughout, though it must be said that the vulnerability of Manning's unusual vocal traits may in part have been caused by his vocals being placed too high in the mix. This and the sometime triteness of the lyrics notwithstanding, 'Making Shore' is an excellent album of variation and stylistic combination that ultimately proves to be – well – Progressive. Majestic and melodic, powerful and polished, the performances, while not always subtle, comprise clear declarations of the highest musical prowess. There is a lightness to the weightiness on this album."
Naast Damanek met Making Shore, Siiilk (Eemynor), Southern Empire (Civilisation), United Progressive Fraternity (Fall in Love With the World), Io Earth (New World) & David Minasian (Random Acts of Beauty).
Thursday/Donderdag 12.00 – 24.00
Friday/Vrijdag 12.00 – 24.00
Saturday/Zaterdag 12.00 – 24.00