Art Rock Show – Marshmallow Moondust (Week 3)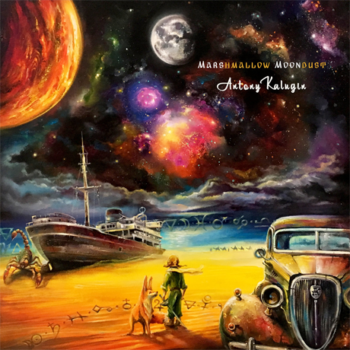 Deze week brengen we de nieuwe soloplaat van multi-instrumentalist en componist Antony Kalugin. De man uit Oekraïne kennen we vooral van de initiatieven Sunchild en Karfagen.
Prog Archives review: "In fact, I can't remember the last time I was so thrilled by a new prog album. Right at the first listening, within the very first few minutes, I knew I would love it, if the charm of the beginning would grace the whole album. And it does. Yes, I love this album!
If I ever feel the need to use the words "Prog Heaven", it is now. By that I underline the easiness of enjoying this instrumental music, feeling blissfully happy. As we know, more demanding prog music doesn't make the impression right away, one needs to digest it and listen to it time and time again before finally "getting" it. That's not the case here: you're instantly grabbed by the beautiful and dynamic flow of melodies and excellent, multi- levelled mellow symphonic prog soundscape. And Antony made it all by himself, ie. played all the instruments. That's just amazing (but it's NOT affecting my rating)! He's a master at keyboards as anyone familiar with e.g. Karfagen knows, but his guitar playing is very good too, and even the drums do not sound fakey (that surely was one of the most critical aspects). The sounds of flute and saxophone are not "real" since Antony and his co- producer Will Mackie decided to stick to the concept of a one man record. Undoubtedly a real flautist/saxophonist would have made a better and fuller impact, but everything that's heard here is enjoyable. (…)
If you enjoy melodic, instrumentally oriented symph prog á la Camel and Willowglass (whose Andrew Marshall I see as a kindred spirit to Kalugin, sharing similar strong influences from the 70's), do yourself a favour and get this album. BTW, I also like how the cover art (and two mini posters) by Igor Sokolskiy contains references to "The Little Prince" by Antoine de Saint-Exupéry. This is a timeless prog masterpiece, and certainly my favourite album of 2020!"
Naast Antony Kalugin met Marshmallow Moondust, Comedy Of Errors (House of the Mind); Daal (Decalogue of Darkness), Jinetes Negros (Tawa Sarira), Mist Season (Woodlands) & Genesis (Nursery Cryme).
Thursday/Donderdag 12.00 – 24.00
Friday/Vrijdag 12.00 – 24.00
Saturday/Zaterdag 12.00 – 24.00