Art Rock Show – Monsters From the Id (Week 33)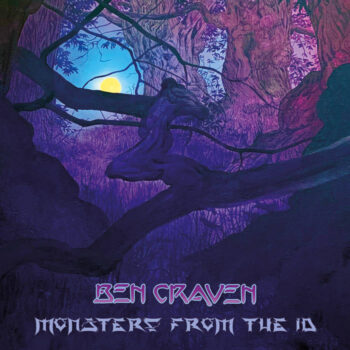 Ben Craven is een progressieve rock artiest uit Brisbane, Australië. En hij houdt ervan om platen te maken. Hij leerde zichzelf gitaar en keyboards spelen en sloot zich aan bij een reeks bands. Komt daarbij dat hij een onvervalste multi-instrumentalist is.
Maarten Goossensen van Prog Wereld: "Naast symfo houdt Craven ook enorm van filmmuziek. Die twee passies komen op dit album geweldig samen. Het lijkt soms wel of Hans Zimmer zelf aan het album meewerkt. De opzet is eenvoudig. Het album bestaat uit twee epics van beide 19 minuten. En beide nummers laten je horen dat symfo en filmmuziek perfect hand in hand gaan én elkaar versterken. (…)
Dat Craven ook kort van stof kan zijn laat hij horen in de vier single edits die het album completeren. Hij weet perfect de kern van beide epossen te pakken en verpakt ze in sterke stukken van twee tot vijf minuten. Vooral Wicked Delights is fantastisch gedaan. Het laat maar weer horen hoe briljant hij is.
Dit album is echt een feest voor het oor. Zijn passie voor ons genre en het plezier waarmee hij dit gemaakt heeft druipt er vanaf en werkt aanstekelijk. Ik ben dan ook totaal niet bevreesd om hier het – bij ons inmiddels beladen – label 'jaarlijstmateriaal' op te plakken."
Naast Ben Craven met Monsters From the Id, Comedy of Errors (House of the Mind), Deeexpus (King of Number 33), PBII (Rocket – The Dreams of Wubbo Ockels), Citizen Cain (Skies Darken) & Lifesigns (Live in London – Under the Bridge).
Thursday/Donderdag 12.00 – 24.00
Friday/Vrijdag 12.00 – 24.00
Saturday/Zaterdag 12.00 – 24.00