Art Rock Show – Only Passing Through (Week 35)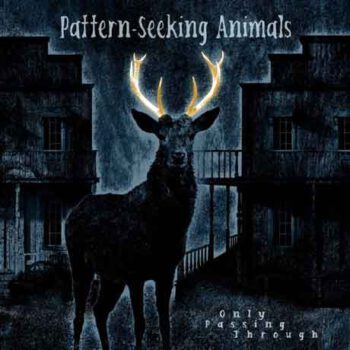 Sinds het laatste Spock's Beard album, Noise Floor in 2018, heeft de helft van de band zich aangesloten bij het Pattern-Seeking Animals project. Dit project is het geesteskind van een van Spock's belangrijkste songwriters John Boeghold. Nu op album nummer drie is de muziek nog sterker en zijn ze gepromoveerd tot volwaardige band.
Graham Thomas van The Progressive Aspect (TPA): "Putting such speculation to one side, let's examine Only Passing Through, the just released new album. Boeghold (keyboards & songwriting) is joined as usual by Ted Leonard on vocals and guitar, Dave Meros on bass and ex-Beard drummer Jimmy Keegan. This line-up is augmented by an ever expanding range of instrumentation, some sampled and some real, which widens the scope of the sound and arrangements considerably. The musical ability of this band is not in question, but it's the songwriting which is the band's key strength. Whether it is a simple ballad, a straightforward rocker or a prog epic, Boeghold delivers quality compositions consistently, and he has a band capable of breathing life into his vision. (…)
Only Passing Through is a beautiful ballad contemplating mortality, then we are thrust back into what seems to be another western soundscape, and in that respect, this sounds like a companion piece to Time Has A Way, but Said the Stranger has a more ominous and sinister undercurrent, and a mysterious lyrical narrative. It's another wonderful example of P-SA's ability to conjure songs which are undeniably prog, yet in a style unlike any other band; originality without sounding too 'out there', or unapproachable. It's a delightful balance the band seem able to strike with ease. Final track Here With You With Me is another prog epic, sounding grand and elegiac, but avoiding the bombast or pretension often associated with our genre. Again Leonard proves his lead guitar playing has improved remarkably over the years, or maybe he hid his light under a bushel, who knows? His playing here is superb. (…)
So the band has delivered what I believe is their finest album yet, and a collection of songs which truly deserve to be heard. They certainly sound like they mean business, and it would be wonderful if they can get on the road and underline how powerful and accessible they undoubtedly are. Welcome back guys."
Naast Pattern-Seeking Animals met Only Passing Through, Artificial Language (Now We Sleep), Anathema (A Sort of Homecoming), Ian Anderson (Homo Erraticus), The Flower Kings (Paradox Hotel), Paatos (Breathing) & Oceansize (Home & Minor).
Thursday/Donderdag 12.00 – 24.00
Friday/Vrijdag 12.00 – 24.00
Saturday/Zaterdag 12.00 – 24.00