Art Rock Show – Protocol V (Week 26)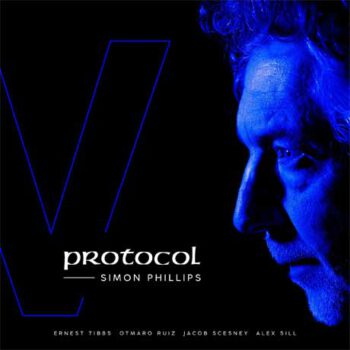 Simon Phillips is een in de VS gevestigde Engelse jazz-, pop- en rockdrummer, liedjesschrijver en platenproducer. Hij werkte met rockbands in de jaren 1970 en 1980 en was de drummer van de band Toto van 1992 tot 2014. Phillips werkte als sessiedrummer voor Jeff Beck, Gary Moore, Michael Schenker, Bernie Marsden, Jon Lord, Nik Kershaw, Mike Oldfield, Judas Priest, Mike Rutherford, 10cc, The Who enzovoort…
Prog Archives review: "Simon Phillips' Protocol series is some of the best jazz fusion you will find anywhere, so don't miss out. He collaborates with stellar players and the tunes are exciting and memorable. Especially on this outing, it's very difficult to pick a favourite track, as they are all amazing – there's no filler here.
This is the first time where saxophone has a lot of prominence, as Simon's ensembles are usually guitar led, but Alex Sill on guitar is definitely no slouch! This album is a heady mix of fusion flavours and Simon's playing is just what each track needs – in a drummer-led band, you might expect that there would be drum solos everywhere, but the playing here serves the music.
Simon is such an experienced musician and has played with the best; he's clearly got nothing to prove technique-wise and so his parts are always appropriate and they propel the music along beautifully.
If you are a fusion fan, you won't find a better album than this – it's top class playing and enjoyment."
Naast Simon Phillips met Protocol V, Pat Metheny (From This Place), The Aristocrats (You Know What…?), Cosmosquad (Live at the Baked Potato), Allan Holdsworth (The Sixteen Men of Tain) & Alain Caron Et Michel Donato (Basse Contre Basse).
Thursday/Donderdag 12.00 – 24.00
Friday/Vrijdag 12.00 – 24.00
Saturday/Zaterdag 12.00 – 24.00