Art Rock Show – Red Alert in the Blue Forest (Week 15)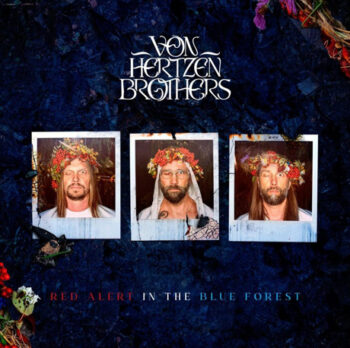 Von Hertzen Brothers zijn een Finse rockgroep, opgericht in 2000 door drie broers. Hun muziek is een mix van klassieke rock en progressieve elementen, folk, punk en hedendaagse rock.
Marcel Debets van Prog Wereld: "Elk nieuw album van VHB moet je veroveren. Je moet er moeite voor doen om de muziek tot je door te laten dringen en de schoonheid ervan te beseffen. Het is een 'aquired taste'. De muziek is nooit echt heel ingewikkeld (geen spierballenvertoon met maatsoorten) en ook nergens atonaal of anderszins moeilijk. Maar toch denk je nooit bij een eerste luisterbeurt 'wat een meesterwerk'. Dat was al zo bij het doorbraakalbum "Nine Lives" uit 2013 (waar ook Flowers And Rust op staat) en dat geldt ook nu weer voor "Red Alert In The Blue Forest". (…)
Wel is deze keer weer Sami Kuoppamäki van de partij, de drummer van onder meer Apocalyptica. Voor de toetsen tekende op dit album Robert Engstrand, die je zou kunnen kennen van de Finse folkmetalband Turisas. Hij speelde ook op het livealbum "Alive On Planet Earth" van The Flower Kings uit 2000. Zoals altijd zijn de vocalen prachtig. De leadzang van Mikko ligt prettig in het gehoor, maar wanneer de drie broers samen zingen krijg je echt kippenvel.
Had ik al gezegd dat dit album tijd nodig heeft om te groeien? Voor mij is het inmiddels een gigantisch meesterwerk geworden. Ik durf bijna te zeggen jaarlijstmateriaal, maar ik doe het niet, want het is pas april. Ik heb hem wél alvast met potlood in mijn jaarlijstje gezet."
Naast Von Hertzen Brothers met Red Alert in the Blue Forest, Pure Reason Revolution (Eupnea), Karmakanic (In a Perfect World), Cmx (Talvikuningas), Flying Colors (Second Nature) & Spock's Beard (V)."
Thursday/Donderdag 12.00 – 24.00
Friday/Vrijdag 12.00 – 24.00
Saturday/Zaterdag 12.00 – 24.00