Art Rock Show – Sacrae Symphoniae Nr. 1 (Week 27)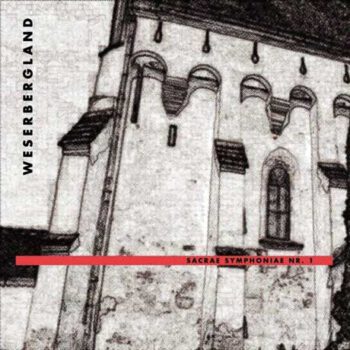 Weserbergerland is een experimenteel muziekproject bestaande uit verschillende Noorse muzikanten die verzameld zijn door ene Ketil Vestrum Einarsen. Hij is bekend van ondermeer White Willow, Jaga Jazzist, Motorpsycho, Panzerpappa en Kaukasus.
Prog Archives review: "What feels like a continuation of both the sound of 2020's incredible Am Ende der Welt as well as the evolution of the Weserbergland sound and vision, we have here a headlong hypersonic immersion into a mind-blowing blending of the worlds of the acoustic and electronic–one in which acoustic instruments are merged seemlessly into one soundscape. Though prog veteran Mattias Olsson seems to have left the project that he help start back in 2015, replacement drummer Vetle Larsen is everybit as impressive (though I'm never certain which drum/percussion parts are "live" with "real" instruments and which are electronically programmed and computer generated), and one of the other founding four from Sehr Kosmisch, Ganz Progisch, White Willow/The Opium Cartel's Jacob Holm- Lupo has moved back behind the scenes into the post-production role of mastering.
Joining the project here is American producer/musician from the Post Rock scene, John McEntire (Tortoise, Stereolab, Gastr Del Sol, The Sea and Cake, Dave Grubbs, Red Krayola) on the mixing board. Though founding member, guitarist Gaute Storsve, is still very much a part of the scene, the project has really evolved into the hands of multi-talented visionary Ketil Vestrum Einarsen (White Willow, Motorpsycho, Tirill, Geir Lysne, Jaga Jazzist, Wobbler, Finn Coren, Frida Ånnevik, Kaukasus, Anima Morte, Galasphere 347), who is credited with composing, programming, fxing, synthesizing, and, I'm sure, more. What a vision! (…)
How to rate–how to assign numerical value to such a work?! I don't think I'm going to. I will, however, issue my declaration of praise for this work of art in the form of five stars: I consider Sacrae Symphonia No. 1 as a masterpiece of human creativity."
Naast Weserbergland met Sacrae Symphoniae Nr. 1, Annot Rhül (Leviathan), Shamblemaths (Shamblemaths II), Utopianisti (The Third Frontier), Needlepoint (Aimless Mary), All Traps on Earth (A Drop of Light) & Electric Orange (Unterwasser).
Thursday/Donderdag 12.00 – 24.00
Friday/Vrijdag 12.00 – 24.00
Saturday/Zaterdag 12.00 – 24.00