Art Rock Show – Skallagrim – Into The Breach (Week 2)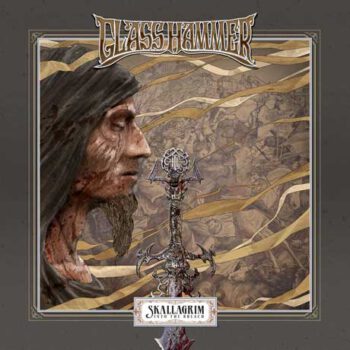 Er zijn maar weinig bands die zo productief zijn als de Amerikaanse groep Glass Hammer. Ze leggen de lat wel erg hoog voor zichzelf en verlaten regelmatig de gebaande wegen…
Pete Pardo van Sea of Tranquility: "Skallagrim – Into The Breach, is part two of 2020's Dreaming City, the latest concept epic from Tennessee's progressive rock veterans Glass Hammer. As we saw with Dreaming City, the band have taken a turn into much darker & heavier sounds, leaving behind the Yes influenced style that they were known for in place of a riffier, harder rocking approach, which, seems to fit the nature of this sword & sorcery saga written by the bands bassist Steve Babb. One listen to the crushing guitars of "Sellsword" and you instantly know that Glass Hammer are here to rock your face off, and though there are still plenty of Hammond organ and synth tones on the album courtesy of Fred Schendel and Babb, the meaty guitar & bass riffs throughout Skallagrim really are the star.
Hannah Pryor handles the lead vocals here, alongside Bass & Schendel, and does a superb job with her aggressive delivery. "Steel" is another standout track, Alex Lifeson styled riffs colliding with vintage prog keyboards and Pryor's strong vocals, while "The Ogre of Archon" is a lethal heavy prog number (near heavy metal?) that brings to mind Rush as well as Black Sabbath. Black Sabbath being mentioned in a Glass Hammer review? Yes indeed! As on Dreaming City, there are shorter, space rock instrumentals that appear in between the main tracks, and offer some cool Tangerine Dream/Hawkwind styled atmospherics in between the more epic tracks. Other highlights include the intricate & symphonic title cut, "The Forlorn Hope" (Hannah's vocals are superb here), the hook laden "The Writing on the Wall", and the textured "Hyperborea", which is a must hear for fans of Rush's Hemisphere and A Farewell to Kings.
Drums are played on the album by Aaron Raulston, who does a fantastic job, and lead guitars provided by Reese Boyd & Brian Brewer. As with all Glass Hammer releases, this is a stellar production filled with excellent music, vocals, and a storyline that will appeal to any lover of fantasy books, which, Steve Babb plans on releasing this as a novel in the near future.."
Naast Glass Hammer met Skallagrim – Into The Breach, Spock's Beard (The Oblivion Particle), Anubis (The Second Hand), Huis (Abandoned), Izz (My River Flows) & Magenta (Broken).
Thursday/Donderdag 12.00 – 24.00
Friday/Vrijdag 12.00 – 24.00
Saturday/Zaterdag 12.00 – 24.00