Art Rock Show – Stellar Gardener (Week 10)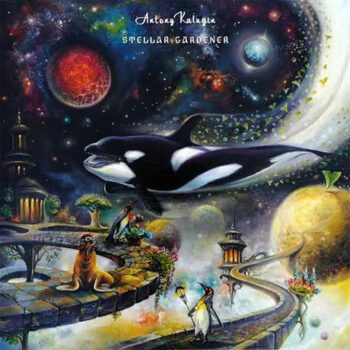 Ter gelegenheid van zijn 40ste verjaardag bracht Antony Kalugin vorige maand zijn nieuwe solo-album 'Stellar Gardener' uit. De uit Kharkiv (Ukraine) afkomstige Antony Kalugin is bij ons zeker geen onbekende.
Prog Archives review: "I thought Marshmallow Moondust was a masterpiece. My first listen to Stellar Gardener eclipsed that feeling. I feel 'Stellar' is even an improvement. Antony uses the same methods, similar in style and execution as 'Marshmallow'. Obviously 'Marshmallow' gave Antony the confidence to forge ahead in his art. And 'Stellar Gardener' is the result.
What is a 'Stellar Gardener'? I'm sure Antony has a firm view to the answer of this question. As to the listener, that is up to his or her interpretation. Antony's music definitely captures these galactic themes. Space and the outer worlds is ensconced in your mind when you listen to it. The tinkle of a key is the twinkle of a star, the flute sound is the ray of sunlight, the heavy guitar sound is an exploding star?
The album is mainly in two parts, 'Stellar' and 'Gardener' both 20 minute epics followed by four smaller compositions being excerpts from the main two tracks. From the start you get the feel of openness and the majesty that is space. We get the interweaving of keyboards and guitars again as we did in 'Marshmallow Moondust'. Although I would say 'Stellar Gardener' is more keyboard based which is more inline with the 'space' theme. (…)
This new album like space is a wonder. To come so quick after the last album and to be at the very least as good is a testament to the skill and imagination of Antony. May he continue. As a music lover I am selfish and just want more."
Naast Antony Kalugin met Stellar Gardener, Fren (Where Do You Want Ghosts to Reside), Jargon (The Fading Thought), Yacobs (Beautiful), Sanguine Hum (Now We Have Power), La Maschera Di Cera (Luxade) & Kayak (Merlin).
Thursday/Donderdag 12.00 – 24.00
Friday/Vrijdag 12.00 – 24.00
Saturday/Zaterdag 12.00 – 24.00