Art Rock Show – Take a Closer Look (Week 49)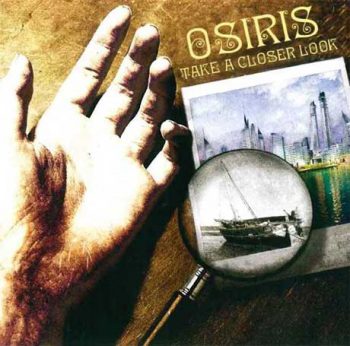 Deze week brengen we Osiris, een van Bahrein's meest populaire bands in de jaren tachtig. De laatste plaat dateert ook al weer van tien jaar geleden. Prog Archives review: "This is probably more of a straightforward neo/symphonic album than those released during their halcyon days, but what might be lacking in the ethnicity department is more than compensated by their fervor for the prog rock that is as much a part of who they are. Cautiously I want to say that this sounds like it could have appeared after "Myths and Legends", but that would be minimizing the impact of the last 30 years of prog revival. So, while comparisons to CAMEL, ELOY, FM, SAGA and even KANSAS still resonate, I also hear kinship with the grandchildren of that generation like CLEPSYDRA and TEMPUS FUGIT. Mohamed AlSadeqi continues to front with his stirring leads, but the twin keys of Nader Sharif and Khalid Al Shamlan shade "Take a Closer Look" slightly to the symphonic side. That's not to say that they have forgotten to rock out, and I think the vigor of Ahmed Rawanbakhsh contributes mightily in terms of newfound enthusiasm, particularly on briefer punchier numbers like "And it's over".
The album crests just where it should, on the longest tracks, particularly the hook laden but profound title cut, the glorious instrumental "Until we Meet", and the most proggy number "Inner Thoughts", which segues from the suspenseful first movement to a hard rock crescendo culminating in a convincing wail by Rawanbakhsh. About half way through the tempo is more jazzy, angular and thrilling. My only dissatisfaction is that it reminds me of somebody (besides CAMEL) and I can't quite grasp it in waking or in dreams.
If you are already a fan, I can't recommend this enough. If you are a neo or CAMEL fan or would be if both rocked a bit more, I recommend you zoom in here, and then explore their first couple of albums in order. 4.5 stars rounded up because this album's just got it. Bravo!"
Naast Osiris met Take a Closer Look, Brighteye Brison (Believers & Deceivers), IOEarth (New World), Agents of Mercy (Dramarama), Skryvania (Skryvania) & Trettioariga Kriget (Hej Pa Er!).
Thursday/Donderdag 12.00 – 24.00
Friday/Vrijdag 12.00 – 24.00
Saturday/Zaterdag 12.00 – 24.00