Art Rock Show – Telepathic Minds (Week 21)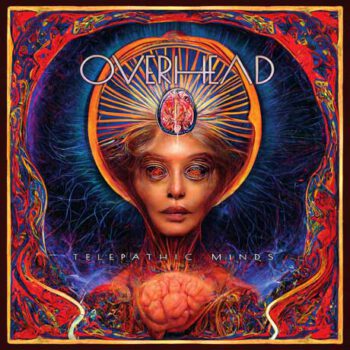 Deze week stellen we Overhead, een progressieve rockband uit Finland aan jullie voor. De band heeft meer dan 20 jaar uitgebreid gespeeld op festivals en clubs in Duitsland, Frankrijk, UK, Italië en heel Europa. Na 6 studioplaten en 4 live platen hebben ze nu een dubbelaar uitgebracht: Telepathic Minds.
Professor Mark van Progressive Rock Central.com: "Well, if you are going to make a double-album, magnum opus, in the modern age, you might want to pick up and listen to Overhead's Telepathic Minds. This band has created a wonderful template for how to do it, in the 21st Century. One of the best albums I have heard this year, for sure. They put a lot of effort into this masterpiece and you can hear it everywhere, on each song, from beginning to end.
Telepathic Minds, is filled with long, deep-thinking tracks like you'd expect from some of the seminal bands of progressive rock, like Pink Floyd, ELP, Genesis, Yes, and others. The lead electric guitar work is straight out of David Gilmour's tool shed. The flute, an inspiration from Traffic and Fairport Convention. The bass and drums support all of it well. Alex Keskitalo, has a wonderful voice which reminds me a little of David Gilmour and maybe Mariusz Duda, from Riverside.
Every track on this album is worthy of your consideration and listening time. The lyrics examine a brave future ahead that we may all participate in soon. Imagine telepathic abilities. I'm not sure I'm all in on that notion yet. The album examines the benefits and drawbacks of this kind of world. Imagine if enemies could examine each other's thoughts, to more understand completely the reasoning behind decisions. Would we use it correctly, or misuse this ability? They take a stab at how they see it. (…)
This album is easily one of the best albums of 2023! No wonder this band is so well received throughout Europe. Get this and enjoy all the epic gatefold images of the cover and inside album artwork, and imagery of this sound. The album cover artwork is some of the best of 2023. The collage they made of themselves reminds me so much of the band Love's collage, on the cover of "Forever Changes". Excellent! I found a new band, that used the Covid Pandemic to really hit one out of the park. This is one of the most complete albums you will hear this year. Please give this a chance. You will not regret it!"
Naast Overhead met Telepathic Minds, Moongarden (Align Myself to the Universe), Carptree (Subimago), Believe (The Warmest Sun in Winter), The Reasoning (Live in the Usa: The Bottle of Gettysburg) & Abigail's Ghost (D_Letion)
Thursday/Donderdag 12.00 – 24.00
Friday/Vrijdag 12.00 – 24.00
Saturday/Zaterdag 12.00 – 24.00