Art Rock Show – The Fox and the Bird (Week 45)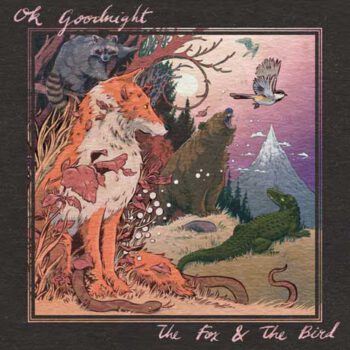 Ok Goodnight is een progressieve rock en metal band, die muzikale invloeden als Dream Theater en The Mars Volta combineert. Ze werden gevormd door studenten aan het Berklee College of Music in Boston. Dit is het tweede album van de Amerikaanse band.
Wonderbox Metal review: "The Fox and the Bird contains 52 minutes of modern progressive metal that brings together a variety of influences into a multifaceted whole. A foundation of progressive metal and rock is enriched with elements of pop, jazz, and indie to create music that's charismatic and highly textured. (…)
It's clear that a lot of time and care has gone into these songs. With a compelling narrative that ties each track together, and a clear vision for how each individual song and component should sound not only in its own right, but in reference to everything else here, The Fox and the Bird is engaging and immersive. Striking in its ability to conjure up evocative imagery and draw the listener into its well-drawn world, this really is an album that demands the listener's attention.
The Fox and the Bird is an engaging and enjoyable album from an impressive band. OK Goodnight have crafted a work of depth and substance, one that's worth exploring with obsessive adoration."
Naast Ok Goodnight (The Fox and the Bird), Sermon (Of Golden Verse), Caligula's Horse (In Contact), The Dear Hunter (The Fox and The Hunt), Wilderun (Veil of Imagination) & Pain of Salvation (The Second Death of Pain of Salvation).
Thursday/Donderdag 12.00 – 24.00
Friday/Vrijdag 12.00 – 24.00
Saturday/Zaterdag 12.00 – 24.00