Art Rock Show – The Indifferent Stars (Week 3)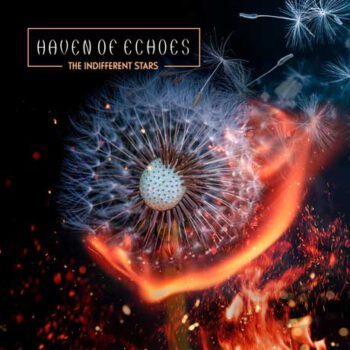 Haven of Echoes wordt gevormd door de multi-instrumentalist Andreas Hack, van de Duitse progressieve rockgroep Frequency Drift met zanger Paul Sadler, voorheen van de Britse prog-death groep Spires.
Jacco Stijkel van Prog Wereld: "Het lijkt er overigens op dat Haven Of Echoes een soort van voortzetting is van Frequency Drift. In de begeleidende biografie wordt namelijk ervan gesproken dat Frequency Drift de voormalige band is van Andreas Hack. Twee andere leden van deze band geven namelijk ook acte de presence bij Haven Of Echoes. Wolfgang Ostermann staat garant voor de drums en harpiste/toetseniste Nerissa Schwarz speelt mee op twee nummers. De song Endtime is bovendien van haar hand.
De cd begint met Sirensong. Dit nummer geeft direct een goed beeld van Haven Of Echoes. Songgerichte prog met mooie sferen, goede zang en toegankelijke zanglijnen. De muziek schuurt tegen de lijntjes van de popmuziek aan. Denk bijvoorbeeld aan de Depeche Mode, de 'popalbums' van Paradise Lost en de dramatiek van Muse. Ik hoor ook een vleugje van Gazpacho. De meeste muziek is toetsen georiënteerd. Het gaat dan met name om het creëren van een donkere en mystieke atmosfeer, aangevuld met mooie pianostukjes. Zoals Hack ook deed met Frequency Drift. (…)
Als je "Letters To Maro", de laatste plaat van Frequency Drift uit 2018, kon waarderen en je een blend met gothic pop/rock voor je ziet, zou je "The Indifferent Stars" zeker even moeten checken. Ik vind het een goede plaat met ook ruimte voor groei. Wat mij betreft gaat het duo Hack/Sadler door met deze veelbelovende band."
Naast Haven of Echoes met The Indifferent Stars, Himmellegeme (Variola Vera), Evership (The Uncrowned King: Act 2), Perfect Beings (Perfect Beings II), Tinyfish (The Big Red Spark), Delvoid (Delve) & Frequency Drift (Last).
Thursday/Donderdag 12.00 – 24.00
Friday/Vrijdag 12.00 – 24.00
Saturday/Zaterdag 12.00 – 24.00