Art Rock Show – The Leaf and the Wing (Week 12)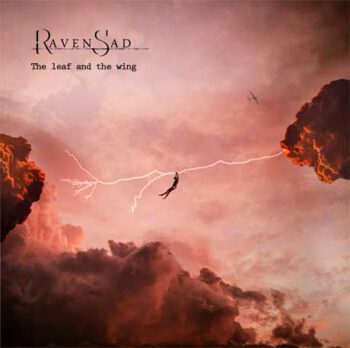 De Italiaanse band Raven Sad werd opgericht in 2005 en opereerde jarenlang als een project onder leiding van gitarist Samuele Santanna met gelegenheidsmuzikanten. Het nieuwe album is dit eenmansproject uitgegegroeid tot een reguliere vijfkoppige band. En het klinkt als nooit tevoren…
Hal C. F. Astell van Apocalypse Later: "I'm hearing more of an Anglo-American sound here, a cross between Marillion and Queensrÿche, with the Marillion most obvious in the instrumental sections and the Queensrÿche in the way Marconcini delivers his vocals. He doesn't soar the way Geoff Tate used to but he's often very similar in his lower register. But that's just a starting point. There's a folkiness throughout that's easily found through a deceptive lightness and the ability of these songs to breathe. There's a funky organ in City Lights and Desert Dark and it veers into jazz fusion midway through. There's also some seventies rock in Ride the Tempest that is shorn of its prog, reminding how widely Black Sabbath influenced music. There's very little of them here but it can be found. (…)
I think my favourite songs are that early pair of ten minute songs and the a pair of darker pieces that follow Colorbox. I enjoyed this throughout, but the early sections of Approaching the Chaos spoke to me. It's a little darker, but not by much, and a little sassier too. It isn't content to sit back and flow; it wants to actively engage and play with us. An inquisitive bass, perky drums and teasing keyboards are a great way to kick the song off and it only grows from there. Ride the Tempest continues the slightly darker approach and adds a little weight to it. This is never heavy music, let alone metal, but this one does think about it often.
Like the Moonspell album from Friday, this is a grower, a second listen highlighting depths that I had missed the first time through and a third listen doing the same. However, it's a lot more immediate. I had to work a little with the Moonspell, which I did because of their name. I didn't know Raven Sad at all before hearing this, so wouldn't have had that incentive to persevere. Fortunately, I didn't need it. I'll be pulling both these albums out again to explore further and I won't rule out upping the ratings on both of them."
Naast Raven Sad met The Leaf and the Wing, Esthesis (The Awakening), Jump (The Beachcomber), Illusion of Gravity (Too Late), Glasswork (Metabolé) & Pink Floyd (Delicate Sound of Thunder).
Thursday/Donderdag 12.00 – 24.00
Friday/Vrijdag 12.00 – 24.00
Saturday/Zaterdag 12.00 – 24.00