Art Rock Show – The Other Side (Week 8)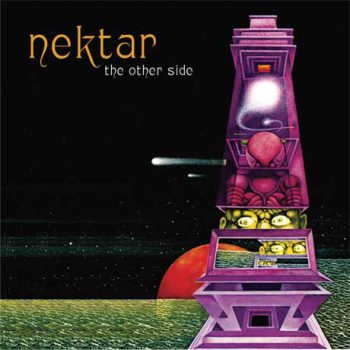 De Britse rockgroep Nektar werd opgericht in 1969 in het Duitse Hamburg. Begin jaren tachtig werd het stil rond de groep. In 2001 werd Nektar door de vroegere oprichters nieuw leven ingeblazen. En dat met succes.
Zachary Nathanson van Echoes and Dust: "From classic albums ranging from A Tab in the Ocean, Remember the Future, Journey to the Centre of the Eye, and one of my favorites, Down To Earth. Nektar have kept their music growing for many, many years to come. After the loss of their original founder guitarist and vocalist Roye Albrighton who passed away in 2016, the band decided to call it a day. But then in 2018, they came back as "New Nektar" with the release of Megalomania.
But now, with this new version of Nektar, it contains not just the original members that feature Derek "Mo" Moore on Bass Guitar and Ron Howden on Drums, but new members that includes Ryche Chlanda (Flying Dreams) on Guitar and Vocals; former member Randy Dembo on 12-String Guitar and Bass; Mick Brockett on Lights, Atmospheres, and Projections; and Kendall Scott on Keyboards. That and their new studio album released on the Esoteric Antenna label entitled, The Other Side, shows that Nektar are continuing to move forward and keeping the legacy growing. (…)
As I've mentioned earlier, you can feel his spirit around the legacy of the band's work. And to hear him sing for a bit and playing his guitar, You might want to be prepare to bring some Kleenexes with you on 'Devil's Door' for the first minute and eighteen seconds of the piece. What I love about this track is that not only is it just proggy, but how Kendall's synths and organ go into this soulful-jazzy approach.
Nektar's spaceship travels into the kings of twilight for some heavier orientations between the rhythm and lead sections to stay away from the doors of the devil. And making sure not to make a bargain with him. Because he might have a card underneath his sleeve. With 'The Light Beyond', this shows the band going into their symphonic structure. For Kendall, he takes his keyboards into a pastoral electronic voyage to prepare the journey back home.  (…)
As I've mentioned earlier, The Other Side is a warm welcoming return for Nektar. And for them to be a part of the Cherry Red family with Esoteric Antenna, home to Rosalie Cunningham, Fish On Friday, Nick Beggs, and Tony Patterson, they fit in really well. Let's hope that the label reissues some of their classic albums in the new decade. Who knows what Nektar will think of next in the roaring '20s."
Naast Nektar met The Other Side hebben we deze week: Djabe & Steve Hackett (Back To Sardinia), Dream Theater (A Dramatic Turn Of Events), Roger Hodgson (In The Eye Of The Storm), Wobbler (Hinterland) & Secret Oyster (Sea Son).
Thursday/Donderdag 12.00 – 24.00
Friday/Vrijdag 12.00 – 24.00
Saturday/Zaterdag 12.00 – 18.00