Art Rock Show – The Void (Week 17)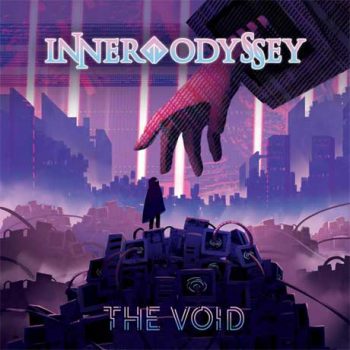 Deze week stellen we de Canadese band Inner Odyssey aan u voor. De band uit Quebec is al bezig sinds 2007. De groep bestaat uit Étienne Doyon(zang, percussie en toetsen), Vincent Leboeuf Gadreau (gitaar en zang); Mathieu Cossette (toetsen en zang); Alex Rancourt (bas en zang) en Cédric Lepage (drums).
The Prog Mind review: "Inner Odyssey is usually grouped into the progressive metal spectrum, but they are so much more than that. This band does offer some satisfyingly modern guitar fireworks, and you will certainly hear influences like Dream Theater, Porcupine Tree, and other usual suspects. However, I would say that they are prone more to offering luscious space and colorful accents than to getting stuck on insatiable technicality. Much of their music revolves more around rock and even electronic notes, and the keyboards are quite strong in the mix. I would even say that the band is heavily influenced by the world of pop. In other words, the band has plenty of musical meat, but it is always balanced with waves of melody and calculated eccentricity. (…)
The album has a knack for throwing curve balls like that, though, and you will find many pop elements strewn throughout the tracklist, too. "Overhanging", one of my favorites, utilizes a heavy autotune on the vocals, making them feel digital and in sync with the story. That song is a bit of slow burn at first, but the second half really rockets into the stratosphere with some truly amazing keys and hefty riffs. I would also mention here that Cédric's drumming is impeccable, and the virtuosity he provides on this track, and the whole album, is stunningly produced.
Another example of the pop elements would be in "The Void". This track certainly has a modern pop beat to it, maybe even bordering on R&B, and it slowly increases the rhythm and vocal harmonies until a grand climax emerges. The synth near the end is one of the most colorful, beautiful parts of the album. This song isn't metal at all, to be honest, and it is utterly brilliant. (…)
I'm really enjoying "The Void". This album hits so many flawless notes, and the climactic melodies and beautiful vocals really bring it all together. The album is focused, and the band knows how to experiment without getting too far from the game plan. It all feels so fresh and modern, never reveling in influences or clichés. I hope the band continues on this trajectory for future albums.
Naast Inner Odyssey met The Void hebben we deze week: Flaming Row (Mirage – A Portrayal Of Figures), Odd Logic (Penny For Your Thoughts), Hemina (Venus), Silent Call (Windows) & Symphony X (Twilight In Olympus). De band bestaat uit Étienne Doyon op leadzang, percussie en keyboards; Vincent Leboeuf Gadreau op gitaar en zang; Mathieu Cossette op keyboards en zang; Alex Rancourt op bas en zang; en Cédric Lepage op drums.
Thursday/Donderdag 12.00 – 24.00
Friday/Vrijdag 12.00 – 24.00
Saturday/Zaterdag 12.00 – 18.00