Art Rock Show – The World as We Knew It (Week 17)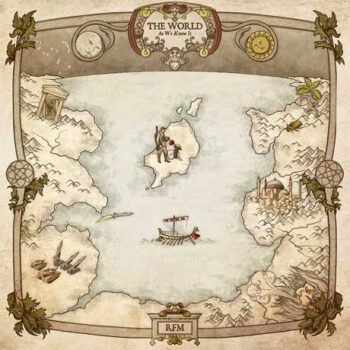 Oorspronkelijk gevestigd in Cardiff is Retreat from Moscow een melodieuze rockband die uitgebreid optrad tussen november 1979 en augustus 1981. Kernleden van de band Andrew Raymond, Greg Haver, Tony Lewis en John Harris kwamen in 2018 bij elkaar om oud en nieuw materiaal op te nemen voor dit album.
Bridget Herlihy van Ambient Light: "Prog rock can be broadly defined as music characterised by classical influences, the use of synths, and/or compositions that far exceed the standard three to four minute duration. While Retreat From Moscow tick all of these boxes, ideally this album should not be pigeonholed to fit into the confines of one particular genre, as it is impressively broad in its scope, incorporating facets of indie and 70's and 80's inspired rock, along with elements of synth pop. It is a beautifully curated and crafted album, brimming with ardour, vivacity and melodic drama juxtaposed with moments of serenity.
Upon first listen two things become readily apparent; first, the lads quickly slipped back into synch with each other musically. Second, this album is an odyssey of epic proportions that requires multiple listens in order to even come close to fully appreciating its grandeur. 'The World As We Knew It' is a wonderfully polished collection of 11 tracks that forges an enthralling, and at times surprising, musical journey. (…)
As a listener, one of the most enjoyable aspects of 'The World As We Knew It' are its unexpected twists and turns. Each and every track has its own distinct 'feel' and tells its own tale. The album's longest track 'Home', which clocks in at 11 and a half minutes, tells the story of a soldier in World War I; a story that is not only told through the lyrics but also through the movements of the tracks. Harris' vocals provide the perfect accompaniment; a vocal style that is well suited to the band's form of musical storytelling. Subsequently, 'The World As We Knew It' flows easily between harder and softer moments almost seamlessly with ease; at no point does anything feel out of place.
The old cliché hold that good things take time; and this instance it certainly rings true. It may have taken 40 years to come to fruition, but 'The World As We Knew It' offers a thoroughly engaging and enjoyable listening experience that really needs to be heard to be believed. Turn it up to 11 for maximum effect."
Naast Retreat From Moscow met The World as We Knew It, D'Virgilio, Morse & Jennings (Troika), This Winter Machine (A Tower of Clocks), The Paradox Twin (Silence From Signals), Drifting Sun (On the Rebound) & Legacy Pilots (The Penrose Triangle)."
Thursday/Donderdag 12.00 – 24.00
Friday/Vrijdag 12.00 – 24.00
Saturday/Zaterdag 12.00 – 24.00