Art Rock Show – Tomorrow Is Delayed (Week 4)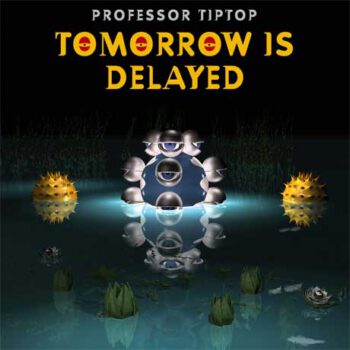 Professor Tip Top is de wat vreemde naam van een Noorse band uit Bergen. De groep speelt een soort progressieve rock die sterk doet denken aan de jaren zeventig. Het klinkt in ieder geval erg aangenaam en relaxed.
Prog Archives review: "Erebus is a glorious start to the album, and one of its strongest songs. The spacey sounds are captivating, and despite the heaviness of the lyrical theme, there is a lightness of touch in the instrumentation that prevents the song from being too weighed down. I absolutely love the vocals of Sonja Otto, too. In a way, her presence could have made or broken this album, as Professor Tip Top were so associated previously with the singing of Svein Magnar Hansen. For me, they elevate this album to the best yet from the band. Otto is a perfect match for the music, and I love her tone. Her addition to the band is an absolute highlight for me.
Despite having a very spacey, psychedelic sound, they are also reminiscent of bands such as Camel and Curved Air, and perhaps a little Gryphon. The guitar playing of Sam Fossbakk often reminds me of Andy Latimer and there's some gorgeous guitar of this style in second track, In the Mirror. This song is probably my favourite from the album, though the following Under Crystal Stars comes close. As much as I love Otto's vocals, the band really takes things to a whole new level within the extended instrumental passages. (…)
No matter how important Svein Magnar Hansen' singing might have seemed to be for the band, they have not only survived his leaving, they have surpassed all that came before. Tomorrow may be delayed, but today is the best yet."
Naast Professor Tip Top met Tomorrow Is Delayed, Pymlico (On This Day); Shaman Elephant (Crystals), Fatal Fusion (Land of the Sun), Tirill (Um Himinjoður), Seven Impale (City of the Sun), Hats Off Gentlemen It's Adequate (Feeling Great) & Junipher Greene (Friendship).
Thursday/Donderdag 12.00 – 24.00
Friday/Vrijdag 12.00 – 24.00
Saturday/Zaterdag 12.00 – 24.00