Art Rock Show – Turf Ascension (Week 44)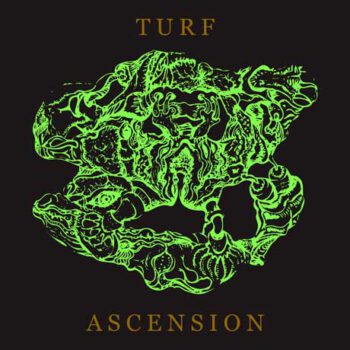 De rockband Bubblebath ontstond in Mineapolis, Minnesota (VS) in 1995 en vond zijn definitieve line-up in 1998. Ze spelen een avant garde mix van prog, pop en jazz – soms pakkend en melodieus, maar altijd complex en goed gestructureerd, origineel en verfrissend.
Jez Rowden van The Progressive Aspect (TPA): "Bubblemath's music hits all the right receptors in my noggin, and the news that a new album was due for release ONLY FIVE YEARS after Edit Peptide brought whoops of joy in our house. Well, from me at least; my better half started twitching at the thought of having to listen to more of this convoluted madness: it's safe to say, it's not her thing. You have to invest yourself a bit into Bubblemath and let it all just happen to you. Go with the flow, allow it to work its magic without expectation. Give the alchemic musical interactions the space they need to do their peculiar synapse altering thing in peace. Once in, this stuff is bloody compelling.
There's so much to take in from Turf Ascension's four lengthy tracks, three around the 10-minute mark, with opener Surface Tension running to almost 18-minutes. All of the band's hallmarks are in place with the dextrous arrangements supporting the wide-eyed vocals of Jonathan G. Smith in a swirling stew of the largely unexpected. No wonder it takes them years to put this stuff together, the often dense passages exploding in all directions before resolving into memorable hooks and lead parts. It's a stunning achievement, a fascinating and fully satisfying listening experience, hugely entertaining whilst keeping the brain agile. (…)
Expertly mixed by Blake Albinson, Turf Ascension is exhilaratingly high-energy for most of its length, but it never gets wearing as the dexterity, both in the instrumentation and the delightfully delivered lyrics (Smith doing a fantastic job throughout), keeps the mind racing along with the music. The vocal lines and melodies are often unorthodox but they sit within the intricate musicianship like a particularly satisfying pearl in a beautiful oyster.
Bubblemath are on a roll now and the thought of more new sounds from this most engagingly obtuse band before the end of the decade can no longer be ruled out as the deranged ramblings of a loon."
Naast Bubblemath met Turf Ascension, Knifeworld (The Unravelling), Present (Barbaro (Ma Non Troppo), Thinking Plague (A History of Madness), Time of Orchids (Sarcast While), Miasma & the Carousel of Headless Horses (Perils) & Roz Vitalis (Elephant Live).
Thursday/Donderdag 12.00 – 24.00
Friday/Vrijdag 12.00 – 24.00
Saturday/Zaterdag 12.00 – 24.00