Keepers Of The Blues Flame *** Radio Sutch: The R&B Roots of Screaming Lord Sutch *** Monday 13 December 2021 *** [Ed's Show, 2021, no. 14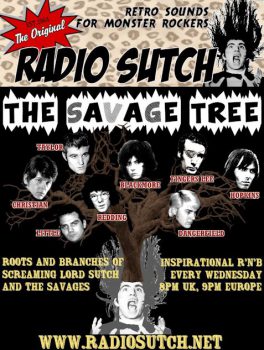 NEW SHOW: Radio Sutch: The R&B Roots of Screaming Lord Sutch: Jim Leverton (Savoy Brown, Steve Marriott), Henri McCullough, Long John Baldry, Little Richard covered by Jamul, Buddy Holly, Cactus, Mitch Ryder *** REPEATED: New Stuff by Carolyn Wonderland,  David Specter, Guy Verlinde, Starlite Campbell Band, Tony Stevens & Vintage   Stuff by Bob Dylan [1965], Foghat [1975], Jimmy Dawkins [1969], TheKinks [1964] ***  Monday 13 December, 12:00 noon till  04:00 in the morning   *** Time Zone CET Brussels, Paris, Berlin *** [2021-13]
KEEPERS OF THE BLUES FLAME 
De ouwe rotten in het vak die nog altijd goed bezig zijn en jongere artiesten die de fakkel brandend houden.
The veterans who are still going strong & the newcomers  who keep the blues flame burning.
RADIO SUTCH: The Savage Tree. The R&B Roots of Screaming Lord Sutch. My show 'The Savage Tree' brings you one hour of  the rhythm and blues by exploring the roots and branches of Screaming Lord Sutch and his Savages. Originally broadcast on Radio Sutch 2014-2018.  ON MIXCLOUD https://www.mixcloud.com/TheSavageTree/
Showtime CETime Brussels 
12.00 The R&B Roots of Screaming Lord Sutch

14.00

Carolyn Wonderland, David Specer, Bob Dylan

16.00 T

he R&B Roots of Screaming Lord Sutch

18.00

Carolyn Wonderland, David Specer, Bob Dylan

20.00 T

he R&B Roots of Screaming Lord Sutch



22.00

Carolyn Wonderland, David Specer, Bob Dylan

24:00 T

he R&B Roots of Screaming Lord Sutch

24.00 Show Ends Here  On Tuesday  

02:00

Carolyn Wonderland, David Specer, Bob Dylan

04.00 Show Ends Here  On Monday 
---
PLAYLISTS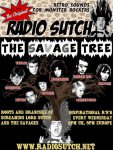 01 NEW SHOW: The R&B Roots of Screaming Lord Sutch
HOUR 1 JIM LEVERTON, HENRI McCULLOUGH
QUICKSTARTER:  TJENS COUTER.
TREENITY: HENRY McCULLOUGH.
MIX 1: RICHIE BARRETT + THE RATTLES + EARL GREEN & THE RIGHT TIME + CHRIS BARBER with Alexis Korner, Keith Scott & James Cotton.
BRANCH :  JIM LEVERTON : ELLIS, feat. Jim Leverton + JIM LEVERTON + SAVOY BROWN, feat. Jim Leverton + STEVE MARRIOTT, feat. Jim Leverton.
MIX 2: THE RATTLES + THE ROLLING STONES     OFF THE HOOK (Live England '65, "Charlie").
HOUR 2 LITTLE RICHARD, LONG JOHN BALDRY
QUICKSTARTER: THE MONKEES
TREENITY:  LONG JOHN BALDRY
MIX 1: RAY CHARLES + THE ELETRIC PRUNES + LIL' ED & BLUES IMPERIALS + ELVIS PRESLEY.
BRANCH : LITTLE RICHARD coverd by  JAMUL + CACTUS + BUDDY HOLLY + MITCH RYDER & DETROIT WHEELS.
MIX 2 : BUDDY GUY & JEFF BECK + PEE WEE CRAYTON Blues After Hours + JB HUTTO & HIS  HAWKS.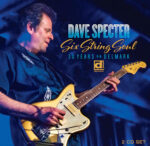 02 REPEATED SHOW:  Carolyn Wonderland, David Specter, Bob Dylan
HOUR 1
CAROLYN WONDERLAND, feat. Dave Alvin, Marcia Ball: Tempting Fate, cd, Alligator, 2021.
GUY VERLINDE: Standing in the Light Of A Brand-New Day, cd 2021.
BOB DYLAN: Bringing It All Back Home + Blonde on Blonde, LPs.
STARLITE-CAMPBELL BAND, feat. Steve Gibson:  Language Of Curiosity, CD, 2021.
THE KINKS: The Kinks, LP, 1964.
BARRY RYAN: LP Sanctus, 1972.
HOUR 2
TONY STEVENS: Slow Ride Re-Vamped, digital album, 2021.
FOGHAT: Fool For the City, LP, 1975 .
DAVID SPECTER & Friends, feat. Jack McDuff, Lynwood Slim: Six String Soul, 2CD, Delmark 2021.
JIMMY DAWKINS: Fast Fingers, Delmark, 1969, LP.
WANDA JACKSON: Best Of Classic Capitol Singles.
AND ALSO
LOVE & PEACE  GUY VERLINDE.
FREEE SPECCH: Donovan, Country Joe & The Fish.
THANKS TO 
MY REVIEWS / MIJN BESPREKINGEN
RAY FENWICK: Playing Through the Changes http://www.keysandchords.com/album-review-blog/ray-fenwick-playing-through-the-
ABOUT 'KEEPERS OF THE BLUES FLAME' 
De ouwe rotten in het vak die nog altijd goed bezig zijn en jongere artiesten die de fakkel brandend houden.
The veterans who are still going strong & the newcomers  who keep the blues flame burning.
ABOUT RADIO SUTCH: The Savage Tree. The R&B Roots of Screaming Lord Sutch. 
My show 'The Savage Tree' brings you one hour of  the rhythm and blues by exploring the roots and branches of Screaming Lord Sutch and his Savages. In each show, we take a closer look at the rhythm and blues output by individual Savages and bands counting Savages in their ranks.  Some Savages: Vince Taylor, Alex Dmochovski, Carlo Little, Peter Parks, Matthew Fisher, Nicky Hopkins, Alan Clayson, Jim Leverton, Mick Abrahams, Cyril Davies, Geoff Everett, Richie Blackmore, Noel Redding, Neil Christian, Brian Parkinson, Brian Keith aka Brian O'Shea. Also, you can listen to the originators and inspirators, the British, American and European youngsters who revived the genre, and  those who've carried on till the present day. Originally broadcast on Radio Sutch 2014-2018.
RADIO SUTCH ON MIXCLOUD https://www.mixcloud.com/TheSavageTree/
THANKS TO
Alligator and Airplay Direct for Carolyn Wonderland +  Continental Record Services for the Starlite-Campbell Band + SingSong for TONY STEVENS  + Airplay Direct for Wanda Jackson and Jimmy Dawkins. 

DISCLAIMER:  https://www.radio68.be/disclaimer/