Langspeeltijd * Long-playtime *** Monday 14 August 2023 *** Antoine et Les Problèmes (album complet), Jerry Yester & Judy Henske, Humble Pie, James Brown, The Great Society feat. Grace Slick *** [Ed's Show, 2023-27]
REPEATED SHOW *** Jimmy James & The Vagabonds [New Religion; This Is], Little Richard [Is Back], Little Stevie Wonder [The 12-Year Old Genius], The Small Faces [Autumn Stone], David Clayton-Thomas, Marvin Gaye *** Monday 14 August 2023,  12:00 noon till  04:00 in the morning *** Time Zone CET Brussels, Paris, Berlin *** [2023-27, no. 268 = 2021-26]
RADIO 68: ALL THE REVOLUTIONARY SOUNDS AND VOICES THAT SHAPED THE SIXTIES 
---
LIKE & JOIN RADIO 68
Like our Page https://www.facebook.com/radio68Belgium
Join our Group https://www.facebook.com/groups/613281298696645
Showtime CETime Brussels 
12:00 Antoine, Jerry Yester, Humble Pie, The Great Society

14:00

Jimmy James & Vagabonds, Little Richard, Marvin Gaye

16:00

Antoine, Jerry Yester, Humble Pie, The Great Society

18:00

Jimmy James & Vagabonds, Little Richard, Marvin Gaye



20:00

Antoine, Jerry Yester, Humble Pie, The Great Society

22:00

Jimmy James & Vagabonds, Little Richard, Marvin Gaye

24:00 Antoine, Jerry Yester, Humble Pie, The Great Society

02:00

Jimmy James & Vagabonds, Little Richard, Marvin Gaye

04:00

Show Ends Here     
01 NEW SHOW: 12:00, 16:00, 20:00, 24:00 hrs CET
ANTOINE ET LES PROBLEMES  Antoine rencontre Les Problèmes, 1966, side1.
JERRY YESTER & JUDY HENSKE Farewell Aldebaran, 1969.
JAMES BROWN I Got You, 1966.
HUMBLE PIE Town and Country, 1969.
HOUR 2
ANTOINE ET LES PROBLEMES Antoine rencontre Les Problèmes,1966, side2.
THE GREAT SOCIETY, feat. GRACE SLICK Conspicuous Only In Its Absence, 1966.
JAMES BROWN Say It Loud! I'm Black and I'm Proud, 1969.
AND ALSO
LOVE and PEACE Antoine  + FREE SPEECH James Brown, Lola Miesserof.

02 REPEATED SHOW: 14:00, 18:00, 22:00, 02:00 hrs  CET;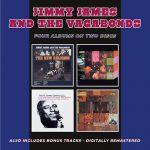 JIMMY JAMES & THE VAGABONDS The New Religion, 1966 + This Is, 1968, BGO Records.
LITTLE RICHARD Little Richard Is Back!, LP, 1964, choice tracks.
LITTLE STEVIE WONDER The 12 Year-Old Genius  Live, LP, 1963, choice tracks.
JIMMY JAMES & THE VAGABONDS Open Up Your Soul, LP, 1968, choice tracks.
SMALL FACES The Autumn Stone, 2LP, 1969 choice tracks.
MARVIN GAYE  The Stubborn Kind Of Fellow, 1963, choice tracks.
DAVID CLAYTON-THOMAS David Clayton-Thomas, LP, 1969, choice tracks.
AND ALSO LOVE, PEACE & UNDERSTANDING Les Sauterelles: Where Have All the Soldiers Gone.
FREE SPEECH & POETRY  : The Liverpool Scene + John Mayall + Warm Dust + Allen Ginsberg.
ACHTERGROND ** BACKGROUND
THANKS TO BGO Records for Jimmy James & The Vagabonds, 2020 re-mastered re-release  https://www.bgo-records.com/artist/jimmy-james-the-vagabonds/
REFERENCEhttp://www.jimmyjamesandthevagabonds.com/

DISCLAIMER
https://www.radio68.be/disclaimer/